Introduction to the App Store
28 Nov 2023

3 Minutes to read
Introduction to the App Store
Updated on 28 Nov 2023

3 Minutes to read
---
Share feedback
Thanks for sharing your feedback!
Overview
The App Store is a repository of various business process applications, also known as Accelerators, that can be installed. These applications can be run as-is or customized, within the Studio, according to business needs. Depending on the selected application, the applications may contain pre-built Flows, Rules, Forms, Dashboards, or more advanced configuration options. Available applications can be found within the Decisions platform by navigating to the My Apps Folder.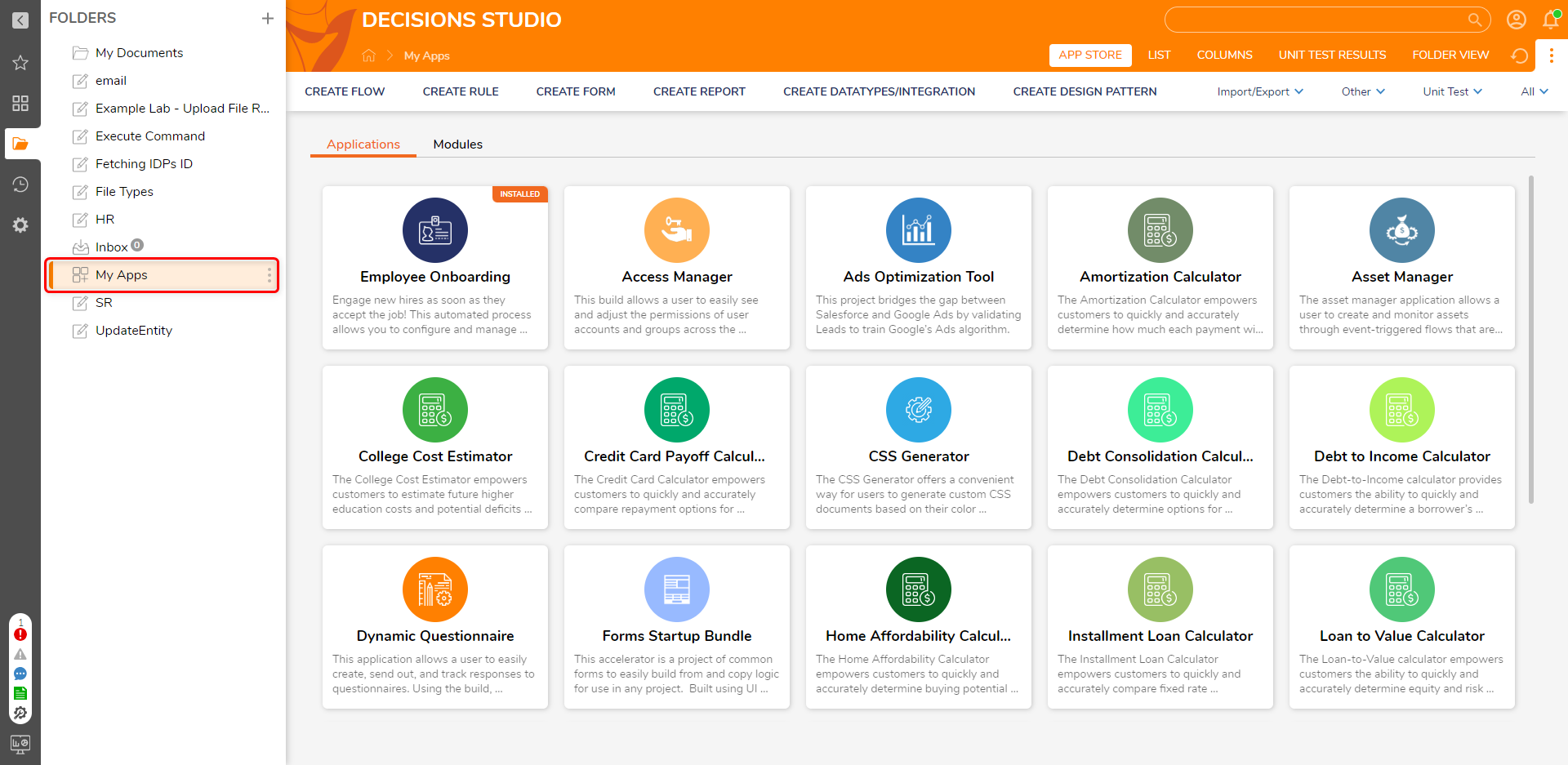 ---
Application Details
The APP DETAILS Page of a selected application will display the app's use case and what objects are contained within the application installation. Also, the Details Page hosts an Overview Video and Project Preview to give an inside look at what the application includes before installation.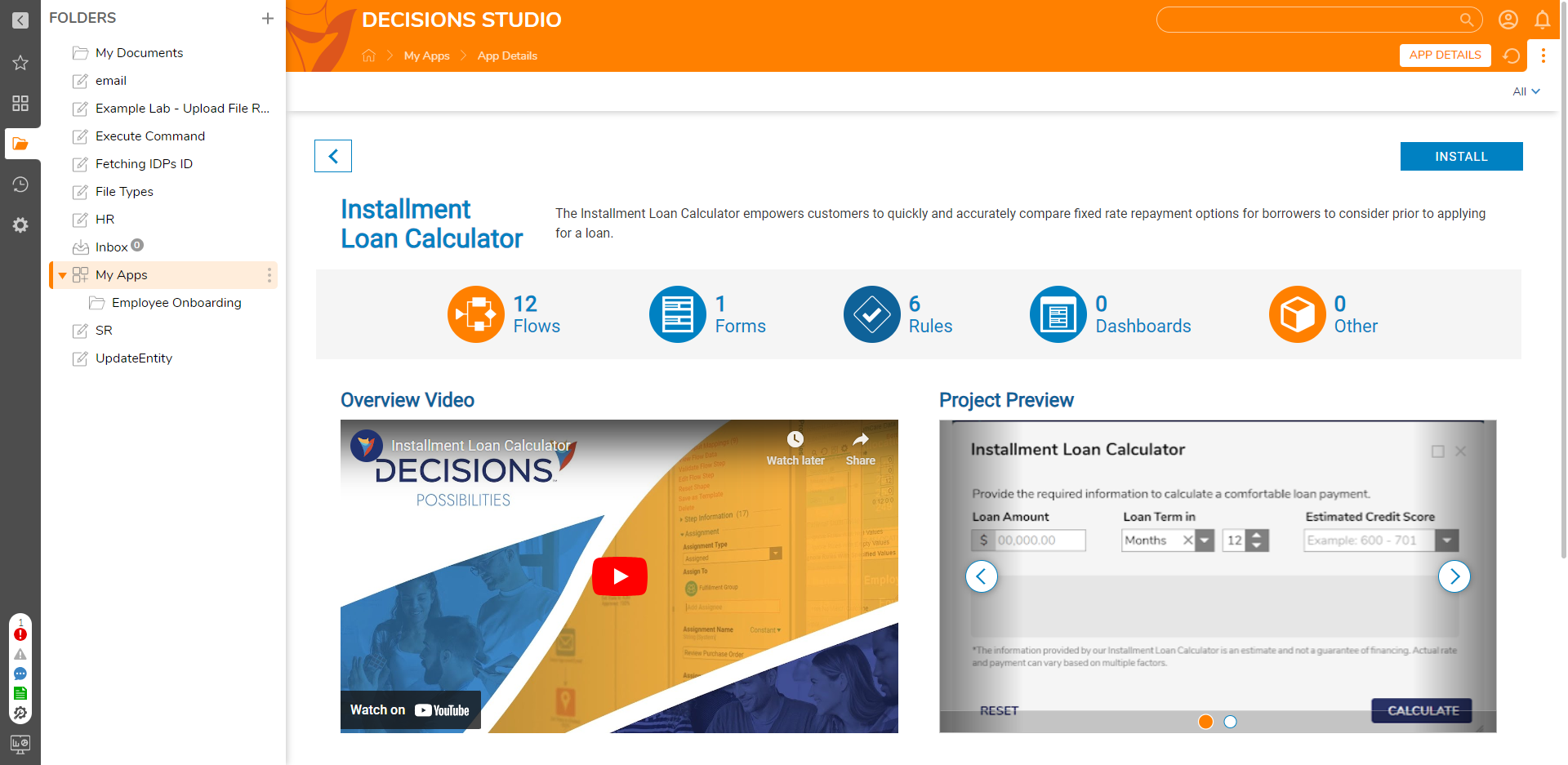 ---
Installing an Application
The following example will install the Employee Onboarding application.
Select an application to open the App Details Page. Click INSTALL.
In the Install Employee Onboarding window, enter a New App Name under SETTINGS. Selecting the Show Advanced Settings option will allow users to Rename Types in the application. Click INSTALL.


After installation, navigate to the My Apps folder to utilize the new application.

---
Accelerators Index
Accelerators are Decisions projects that address Financial Services and Cross Industry pain points. These projects highlight what is possible in Decisions using best practices for Decisions development and UI/UX design. Developers can use Accelerators as starting points for new projects or integrate them into existing projects.
Each Accelerator has an article to walk through using the Accelerator and a video overview that can be found in the App Store.
Accelerators Availability
These projects are built in the latest version at the time of development; they are not available for download in older versions. Accelerators are compatible with versions 8.0 and newer.
| Possibility | Description |
| --- | --- |
| Debt to Income Calculator | Allows customers to quickly and accurately determine a borrower's current ratios to evaluate risk tolerance for new lending products for small to mid-sized financial institutions. |
| Installment Loan Calculator | Empowers customers to quickly and accurately compare fixed-rate repayment options for borrowers to consider before applying for a loan. |
| Loan to Value Calculator | Empowers customers to quickly and accurately determine collateral equity and risk tolerance on collateral. |
| Home Affordability Calculator | Allows the end user to compute their purchase price, total monthly payment, and the PMI (Private mortgage insurance). |
| Student Loan Calculator | Allows the end user to compute a student loan payoff summary based on their loan balance, monthly payment, and interest rate. |
| Credit Card Payoff Calculator | Empowers customers to quickly and accurately compare repayment options for borrowers when carrying high-interest debt. |
| Amortization Calculator | Empowers customers to quickly and accurately determine how much each payment will go toward principal and interest and the long-term interest costs. |
| Debt Consolidation Calculator | Empowers customers to quickly and accurately determine borrowers' options to reduce high-interest debt. |
| College Cost Estimator | Empowers customers to estimate future higher education costs and potential deficits for funding. Tuition rates are automatically updated annually for each institution type utilizing an API call. |
| Ads Optimization Tool | Demonstrates how to connect a CRM with a digital ads vendor to optimize leads using rules in Decisions. |
| Scorecard Wizard | Designed to optimize decisions within the underwriting process. |
| Sightings Tracker | Tool to allow users to record sightings of whatever they want and upload pictures and a paired description/comment. |
| Employee Onboarding | Allows to configure and manage onboarding sequential and parallel tasks across different departments. The process can be tracked from issuing a laptop to scheduling a meeting for orientation. |
| Access Manager | This allows the user to easily see and adjust the permissions of user accounts and groups across the environment. |
| Asset Manager | The asset manager application allows users to create and monitor assets through event-triggered, customizable flows. |
| CSS Generator | The CSS Generator offers a convenient way for users to generate custom CSS documents based on their color preferences, saving them time and effort in styling. |
| Dynamic Questionnaire | This application allows users to easily create, send out, and track questionnaire responses. Using the build, questions can be created, updated, removed, and reordered to fit the needs of the questionnaire. |
| Form Startup Bundle | This Accelerator is a project of common Forms to build and copy logic for any project easily. Built using UI standards and best practices, these 8 Form use cases come with versions in both regular and simple formats. |
| Revision Automating Testing | This allows the users to test a synchronous process/workflow as they change that logic or data. The tool enables users to map what fields are important to see on the results charts. |
| Support Inquiry | Allow users to submit support inquiries to be assigned by a team member and track ticket progress from a dashboard. |
| Wire Transfer Approval | The Decisions Wire Transfer Approval application automates the approval process. It gives financial institutions precise control of user access and permissions to ensure that only authorized users can initiate, approve, or reject wire transfers. |
---
Feature Changes
| Description | Version | Date | Developer Task |
| --- | --- | --- | --- |
| UI changes for the "My Apps" Page in the Designer Studio | 8.13 | August 11, 2023 | [DT-037963] |
---
Was this article helpful?
---
What's Next