Decisions License Key
07 Mar 2022

1 Minute to read
Decisions License Key
Updated on 07 Mar 2022

1 Minute to read
---
Overview
Decisions licenses Machines to run its platform via the built-in Decisions.LicenseUtility tool. When executed, a Machine Key is generated.
This in turn must be sent by the Administrator executing the process and sent to Decisions Support. The Support Team will then respond with the appropriate License Key that is then applied to the Decisions environment.

The following document demonstrates how to properly obtain and apply a License Key to a Decisions Installation that has been installed to the default installation location.
Required Permission Level
The License Utility will need to be run as an Administrator; otherwise, the license cannot be applied.
---
Example
From the machine of the Application Server, navigate to C:\Program Files\Decisions\Decisions Server\licensing. Then, right-click the Decisions.LicenseUtility application and select Run As Administrator.
From the License Utility, highlight and Copy all of the text within the Machine Key field; Paste the text into a Text Editor in case of accidental closure of the License Utility.



Create and send a new Email to support@decisions.com with License Key as the subject. Then, Paste the copied Machine Key into the message body.

Below the Machine Key, provide specifics for the requested License, such as the type of environment (ex. Production, Development, etc...).
Upon receiving Support Team's reply, Paste the received License Key into the License Utility > License Key field, then click Apply.


Machine Key Incompatibility

If the License Utility Tool is accidentally closed, reopen it and use the same Machine Key that was previously sent to Support. This prevents incompatibility issues that may occur when the window is opened as a new Machine Key is generated each time.

Upon receiving the prompt, Restart Decisions Server or IIS Application Pool.

License Application

During the application of the License to the Decisions environment, the Decisions Studio/Portal cannot be accessed (as demonstrated by a "Loading" screen).

During this time, a transient license.key file is created. If processed correctly, the key file will be imported and checked against the Machine Key. If there's a match, it will read the file into the database and delete the transient file from the File System after Server Restart (or iisreset). Once the file disappears, the license has been applied.

After the License has been applied, login to the Decisions Studio, right-click the System Folder, and select Show License Information.
---
Current License Information
The current applied License Information for a System can be observed by navigating to the System Folder in the Decisions Studio and observing the information displayed under the License header of System Information category.

This panel displays the type of License applied to the environment as well as the License's Expiration Date.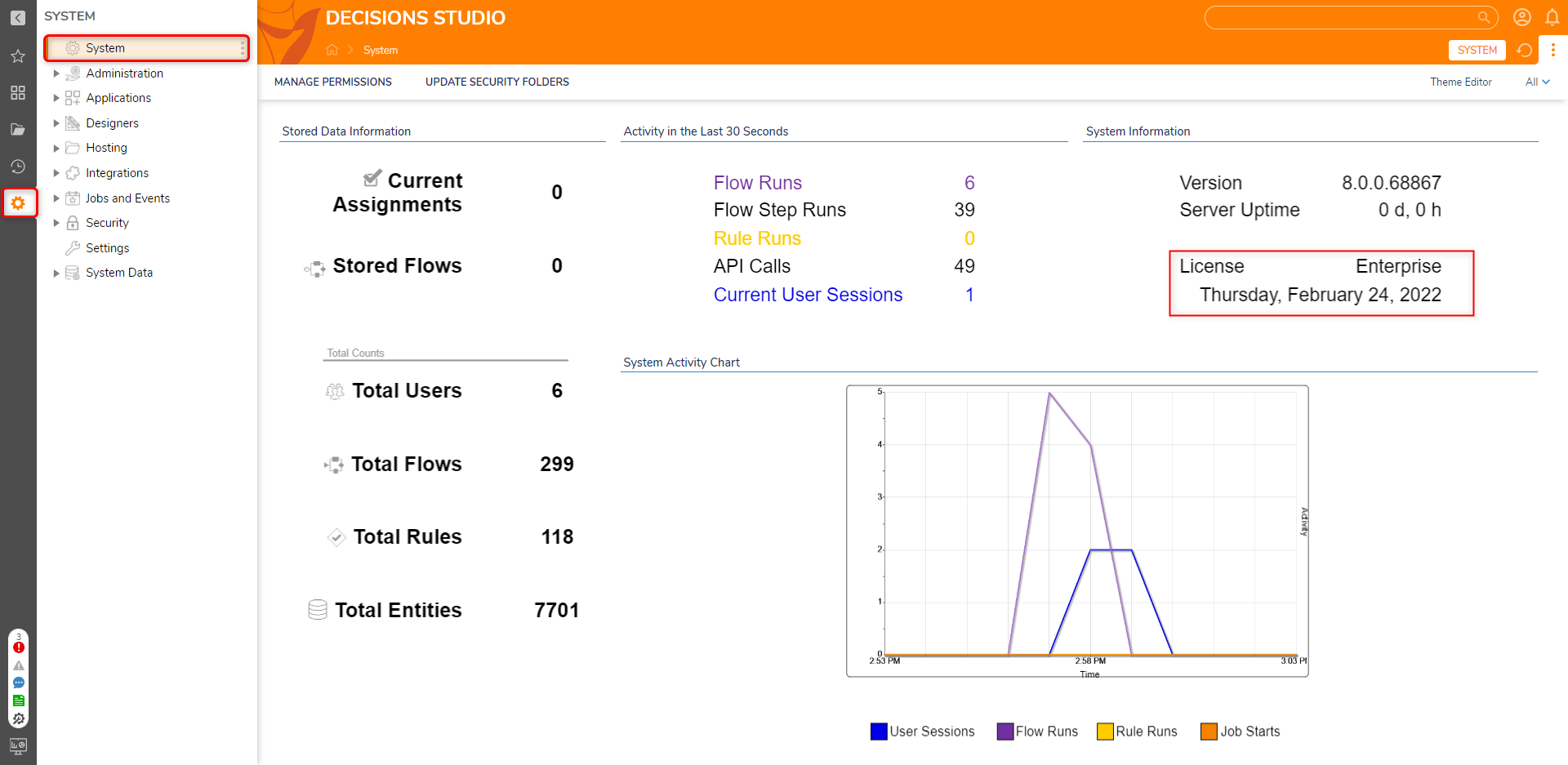 ---
---
Was this article helpful?
---
What's Next