About Forms
03 Jun 2022

1 Minute to read
About Forms
Updated on 03 Jun 2022

1 Minute to read
---
Overview
In Decisions, a Form can have several functions in serving internal and external users. A Form can be used to collect data from an external user, the data can then be transferred and referenced throughout a workflow. In another use case, a Form can be used to display information for an internal task assignment or approval process. A Form is a standalone design component in the Decisions environment, but it runs in unison with a Flow. Forms can be created from a blank template, with the help of a step-by-step wizard, or by modifying an existing template.
Getting Started
To begin creating a Form in the Designer Studio, there will need to be a Designer Folder present in the environment.
Once a Designer Folder is present, right-click the folder name or click the right arrow next to the folder name to reveal the Action Menu. From the Action Menu, select the option to Create Form.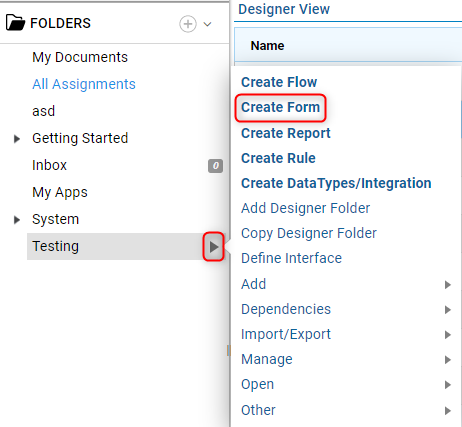 Alternatively, click to open up the Designer Folder and locate the Action Panel at the bottom of the screen, there will be an option to 'Create Form' from this location as well.

Once the 'Create Form' action has been initiated, the 'Create Form' window will appear. This window offers the Designer several different categories of templates for the Form creation. Some categories are dedicated to Form-related functionalities like Creating a Page or Create Repeater Form Control.
Most commonly, it is recommended to use the Default template in the Normal Form category. This template will give the Designer a nice Grid layout to create an internal or external user Form that can be called in a Flow.
Once the template has been chosen, click the CREATE button in the bottom right corner of the window. There will be a prompt to name the Form, then click the CREATE button again to be redirected to the Form Designer.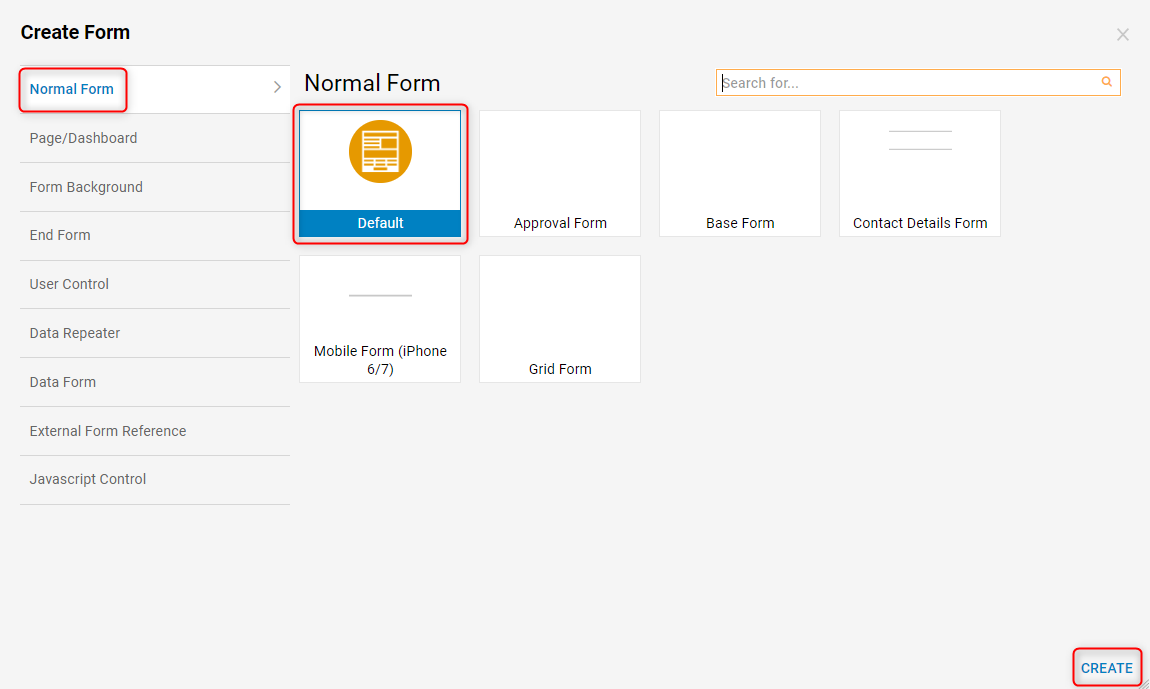 This completes the Form introduction. To get started with creating your first Form, please visit the
Create a Form
article.
---
Was this article helpful?
---
What's Next