Creating a BPMN Flow
17 Mar 2022

1 Minute to read
Creating a BPMN Flow
Updated on 17 Mar 2022

1 Minute to read
---
Overview
Business Process Modeling Notation (BPMN) is a standard notation system that is used to graphically represent business processes. Users can create Flows using BPMN steps or upload preexisting BPMN XML files into Decisions for conversion into a Flow. This allows users the ability to use BPMN as a base for laying out projects
---
BPMN Steps
The BPMN steps are located in the Toolbox panel under DATA > BPMN.
| Category | Description |
| --- | --- |
| ACTIVITY | Provides step to Call Activity which provides a method for performing an action. |
| DATA | Offers steps that deal with data handling. This includes Input, Output, creating a Data Object, or storing Data. |
| EVENTS | Provides steps pertaining to events in a process. |
| GATEWAYS | Steps that allow the user to split the Path of the Flow/BPMN Diagram. |
| PROCESS | Provides a step for running Sub-Processes (similar to Sub Flow functionality). |
| TASKS | Provides steps relating to specific tasks. |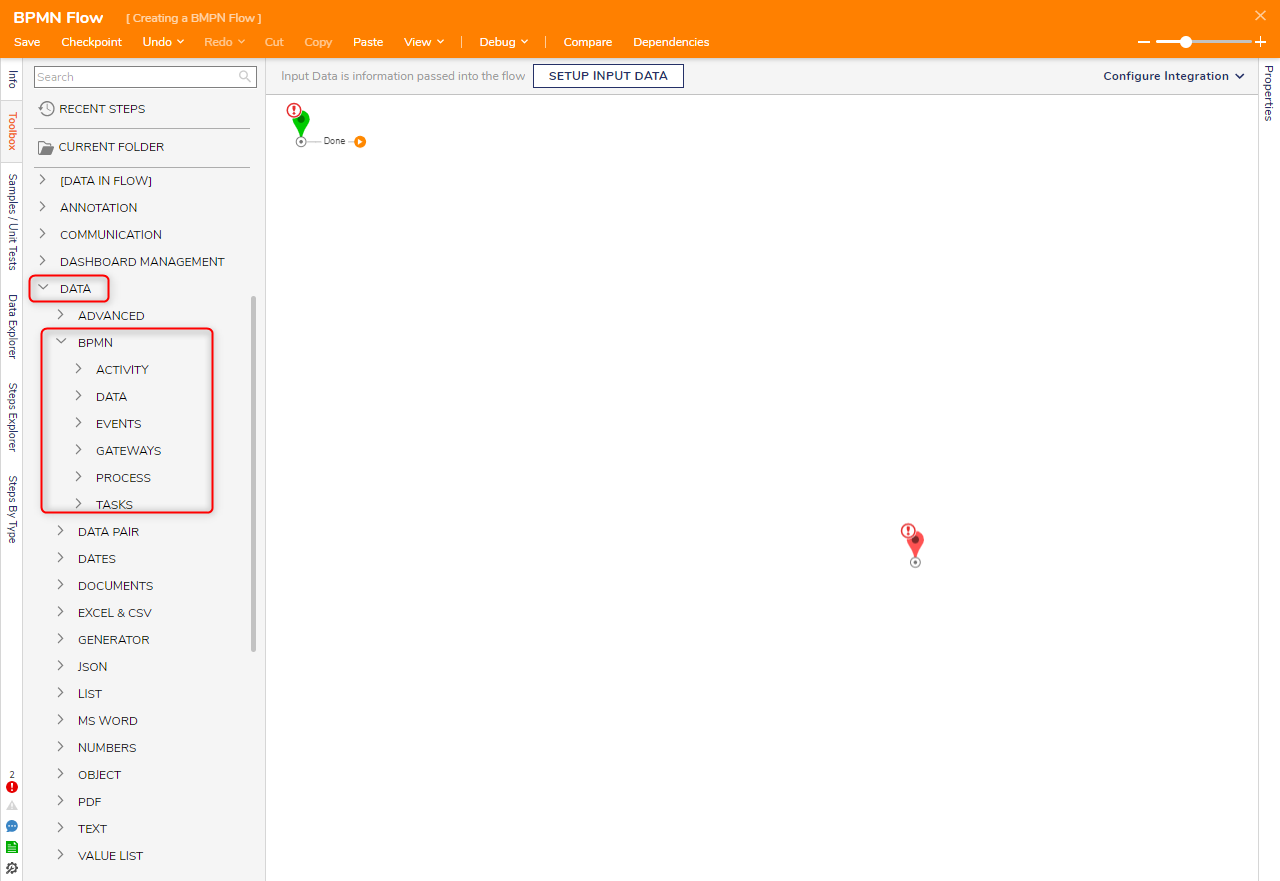 ---
Example
In a Designer Project, click CREATE FLOW and select Flow. Name the Flow and click CREATE.
Delete the Start and End steps. In the Toolbox panel, navigate to DATA > BPMN > EVENTS > START and drag a Start Event step into the workspace.

On the Properties panel under STEP INFORMATION, enter "Start of Process" under Name.

Attach a Call Activity step to the Start of Process step by navigating to DATA > BPMN > ACTIVITY. On the Properties panel under the ADVANCED category, click PICK OR CREATE IMPLEMENTATION FLOW and create a new Flow.

Implementation Flows are used to connect a BPMN Flow to an external Flow to accomplish a section of the modeled Business Process.

In the Flow Designer, attach a Show Popup step to the Start and End steps. Enter "Text" for the Subject field and "This is a message" for the Message field. Click Save and close the Flow Designer.

Attach an End Event step to the Call Activity step by navigating to DATA > BPMN > EVENTS > END. Click Save to save changes to the Flow.

Start Event and End Event function similarly to a standard Start/End step in that they begin or end the Process respectively, and can be used to define Input/Output data.
Debug
On the top action bar, click Debug.
Click START DEBUGGING.
The BPMN Flow will run and the Implementation Flow will run to display the popup.

---
---
Was this article helpful?
---
What's Next