Repository Branches
09 Jun 2022

1 Minute to read
Repository Branches
Updated on 09 Jun 2022

1 Minute to read
---
Overview
Branches are forms of version control where different versions of the same project can be stored in one location. Below are some common use cases for branches.
A specific version of a Project needs to remain unchanged while changes are still being checked in to the Repository from a Dev Server.
The ability is needed to update the version of a Project on QA/Prod, but additional work has been done on Dev that is not yet ready to be promoted.
The ability is needed to keep distinct versions of a Project.
Important Notes On Using Branches
Changing a Branch will update the server to match the Branch in the Repository. If changes are not checked in before the Branch is switched, the change will be lost.
Because a server can only be pointed to one Branch, changing the Branch will change the current Branch for all connected users. Please be sure to let others know if they are working on the same Project.
---
Create Branch
From the Project Folder, click the CREATE BRANCH button in the top Action bar.
Select an option (in this case Trunk) from the From Branch drop down menu.
Define the Branch Name (in this example MyFirstProjectR1), then click CREATE BRANCH.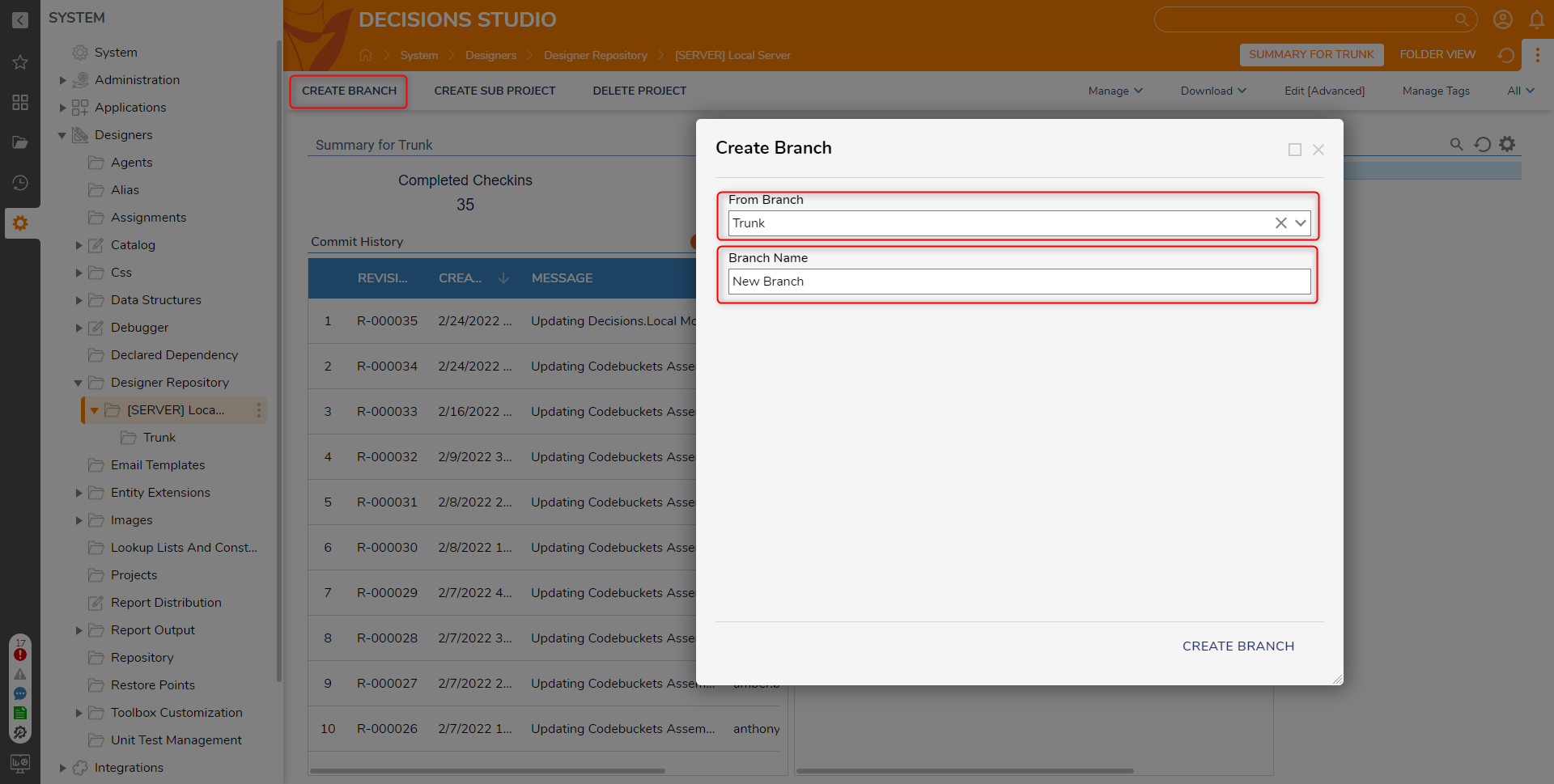 ---
Change Branches
Branches can be easily changed from the Repository Dashboard on the App Server.
Navigate to System > Designers > Repository.

Right-click the Project, then select Change Branch.
Select the appropriate Branch then click CHANGE BRANCH .
A new window will appear. Selecting Advanced will allow a specific revision of the Branch to be chosen. The Project will then begin to be downloaded and imported, similar to checking out a Project.
---
Merge to Branch
Merge to Branch is an action available when on the Designer Repository and allows branches to be merged together, pushing the changes to the selected Branch. To use this action:
Select the Project from the Folder Tree,
Right click the Branch to be merged, then select Merge to Branch.

A new window will appear. Choose the branch to push the changes to, then click Select.
Select the items then select Merge to begin merging.
---
---
Was this article helpful?
---
What's Next