Azure Services Module Overview
08 Jul 2022

2 Minutes to read
Azure Services Module Overview
Updated on 08 Jul 2022

2 Minutes to read
---
Module Details

Installation Location
Core Module
Requires Restart?
No
Step Location
Integration > Amazon AWS
Settings Location
System > Settings > Azure Settings
Prerequisites

Active AWS Account and Application
Overview
Azure Services aka the Azure Service Bus is a messaging system module that allows Decisions to integrate application-to-application communication.
Azure Services Queue settings are available and can be configured after the installation.
---
Example
This example will demonstrate how to configure the Azure Services Module.
Navigate to System > Jobs and Events > Message Queues. Click ADD AZURE QUEUE.


On the Add Azure Queue window, configure the options with the correct information. When complete, click SAVE.

| Configuration Options | Function |
| --- | --- |
| Display Name | This is the name that will appear for this message queue in the Decisions environment. |
| Messaging Type | Sets the messaging type (Queue or Subscription to Topic) |
| Queue Name | This is the actual name of the queue as it is configured on the messaging server. |
| Session ID | The session ID of the user |
| Custom Connection String | This can be used to configure a string that tells Decisions where and how to connect to the Azure message bus server. The connection string can be obtained from the Azure configuration console |




To verify connectivity, right-click the Queue, select Control, and click Test Queue. When complete a popup will display the number of messages.

| Control Options | Function |
| --- | --- |
| Resync Queue | Recreates the message queues if necessary and re-synchronizes with the message server. |
| Start Queue | Starts processing messages on the message queues (if stopped). |
| Stop Queue | Stops processing messages on the message queues and the message server will hold any unprocessed messages. |



---
Adding a message handler to the message queue offers configurable options for how received messages are handled in the queue.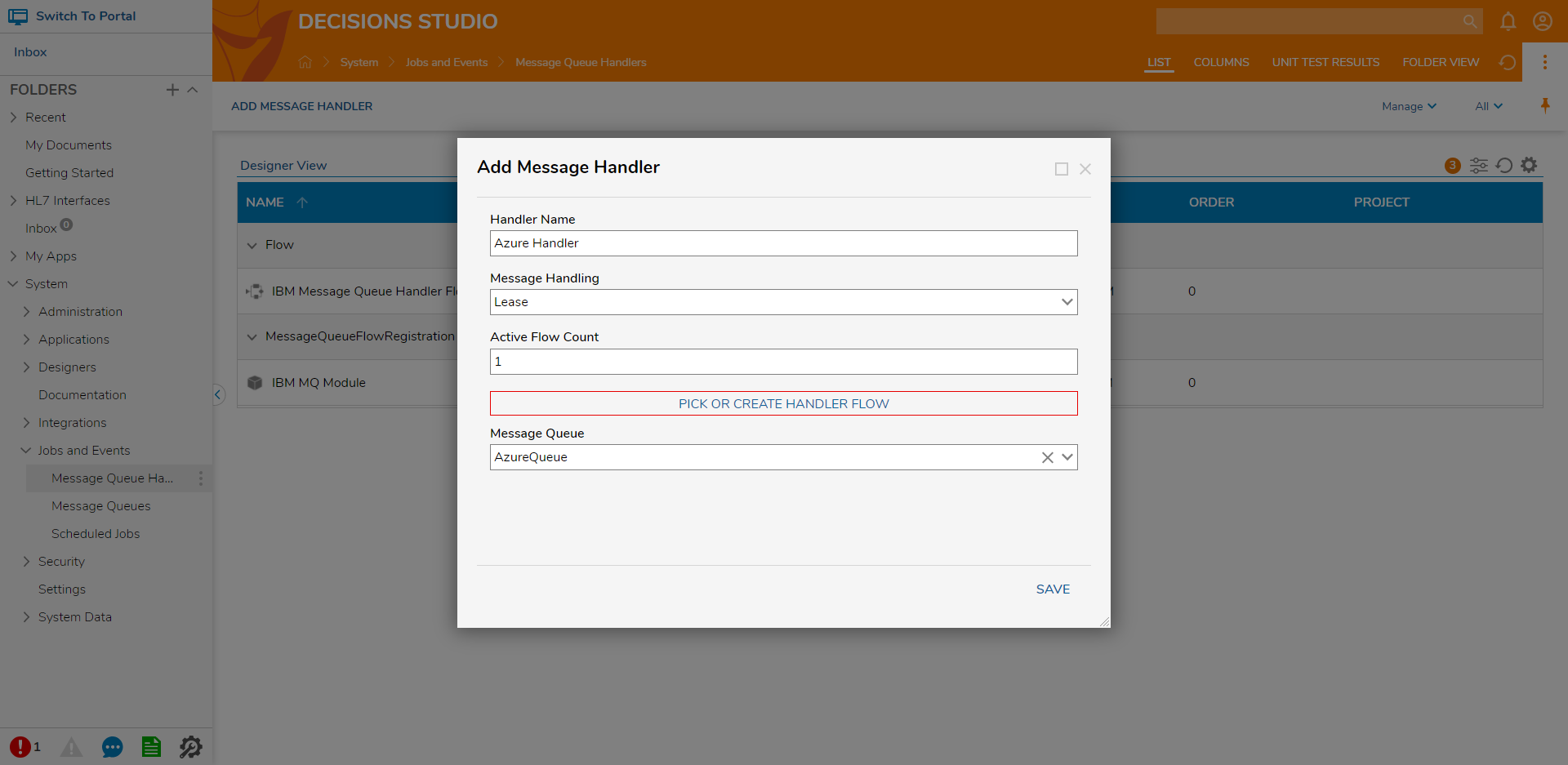 ---
Message Queue Handler Flow
The Message Queue Handler Flow template can be accessed by clicking PICK OR CREATE HANDLER FLOW and selecting CREATE or navigating to Flow > Advanced after selecting the CREATE FLOW button in a Designer Project.
Selecting this Flow template automatically creates a Message Queue Handler Flow. Because of this, the Flow has two special inputs called HandlerId and Message.
The Handler ID is used to identify that a message is received with the message server and the Message is used as the payload field that contains raw data for message contents.
Building a Message Handler Flow will require different steps that are contingent on the content of the message being formatted. Formats from simple text to XML/JSON have different steps that are used when it comes to extracting the contents of a message. Once the appropriate steps have been configured with message handling logic, they can be used to create a new Message Handler in Decisions.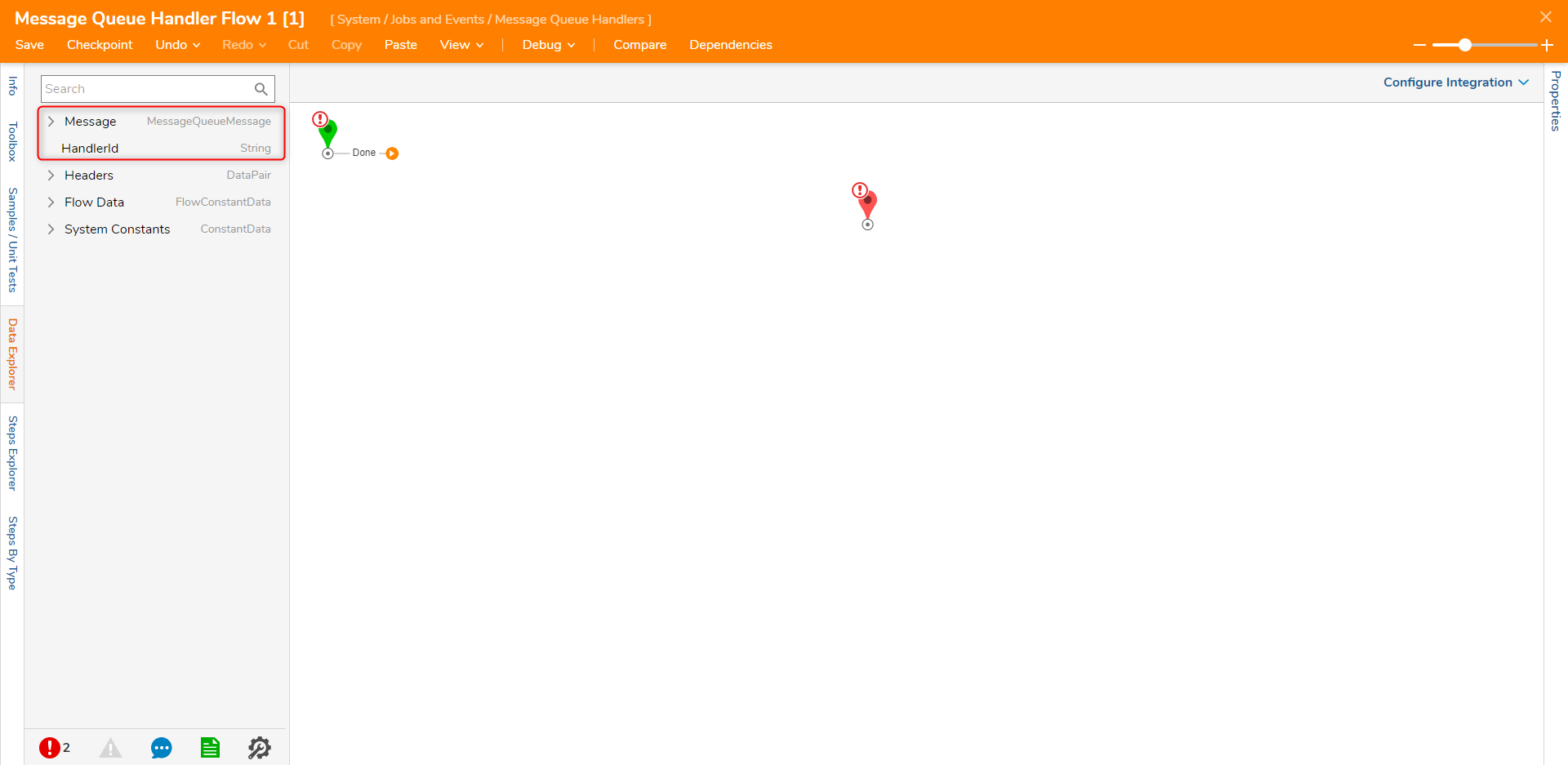 ---
Was this article helpful?
---
What's Next