History and Documentation
15 Jul 2022

1 Minute to read
History and Documentation
Updated on 15 Jul 2022

1 Minute to read
---
Share feedback
Thanks for sharing your feedback!
Overview
To aid in version control and to view Comments, Documents, External Links, Saves, and Checkpoints associated with a specific Designer Element, Designers are given a variety of History/Documentation Actions and Settings. The following document discusses and demonstrates how to use these features to catalog Designer Elements in Decisions.
---
History/Documentation Actions
The History/Documentation Actions can be accessed by right-clicking the name of a Designer Element and hovering over the History/Documentation Actions menu.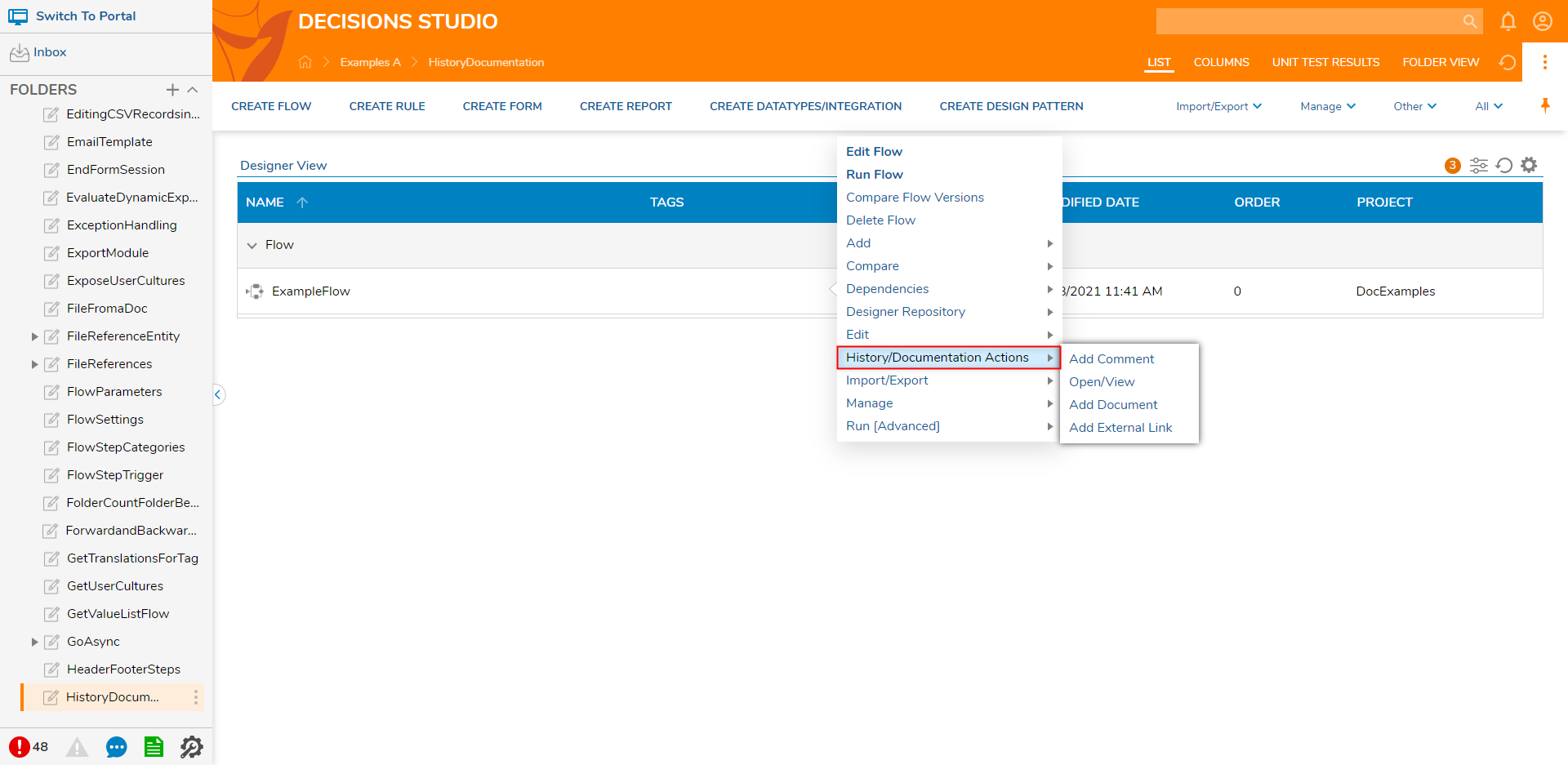 Expanding the History/Documentation menu provides access to the following actions:


| Action Name | Description | Screenshot |
| --- | --- | --- |
| Add Comment | Allows the user to enter a Comment that will appear in the Recent Comments section of the History/Documentation Page. | |
| Add Document | Allows the user to add a Document that will be associated with the element and be available for View/Download in the Recent Comments section. | |
| Add External Link | Allows the user to associate an external URL with the element that is available from the Recent Comments section. | |
---
History Folder
The History Folder of a Designer Element provides information based on the version and history of that specific element. This Folder can be accessed by right-clicking a Designer Element and selecting History/Documentation Actions > Open/View.
The Folder's Page displays the following three sections:
| Section Name | Description |
| --- | --- |
| History and Documentation | Shows the element's Name, Modified On date, the Modified By email, the Behavior type, and the amount of Backups that are available for the item (Backup Count). |
| Older Versions | Displays all Backups or Saves/Checkpoints for the element. Right-clicking one of the backups exposes a new Action menu with options for utilizing the Backup. This includes the ability to Restore From Backup, management options, and more. |
| Recent Comments | Displays all added Comments, Documents (with Download/Update options), External Links, and Preview Images associated with the element. |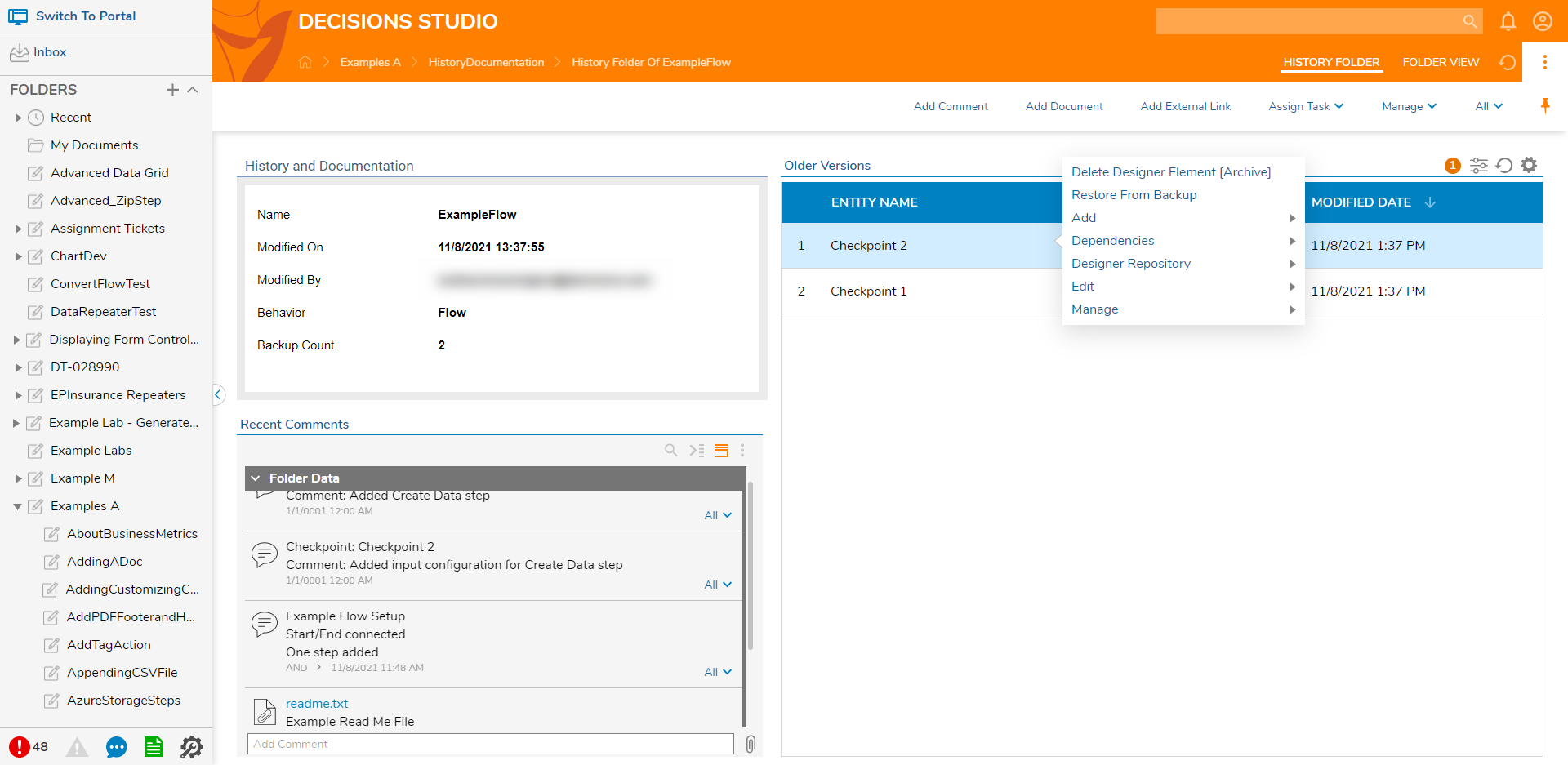 ---
Designer Studio Settings: Archive
To help with version control, Decisions provides adjustable Settings that allow the Decisions Studio to automatically archive previously saved versions of a Designer Element based on the age of the version, or when a new version is saved. These settings help to control how many versions and Backup files are saved for an individual element.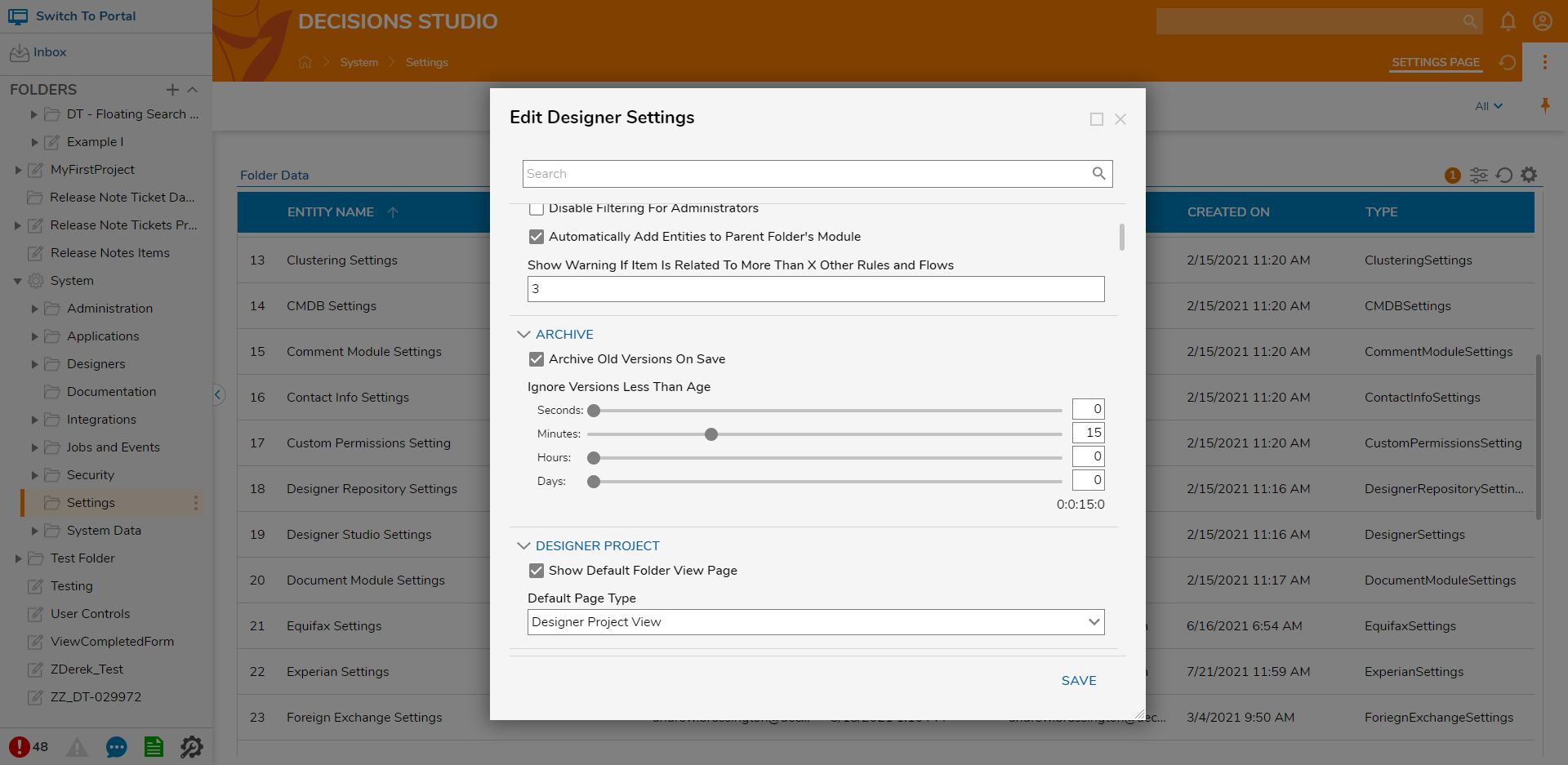 ---
Was this article helpful?
---
What's Next