Rules
24 Jun 2022

2 Minutes to read
Rules
Updated on 24 Jun 2022

2 Minutes to read
---
A Rule is a Designer Element used to evaluate data against a set of pre-configured conditions. Rules can be used to:
Output resulting data to a Flow or as a response to an API call.
Show/Hide Form controls,
Filtering a Report/Page.
Rules are created within the Rule Designer, which provides a visual workspace to view and define the logic. Rules also have varying types, ranging from simple statement Rules
Rule Designer Features
To access the Rule Designer, create a Rule in a Designer Project. Sample/Unit Test data can be created and used for debugging purposes.
---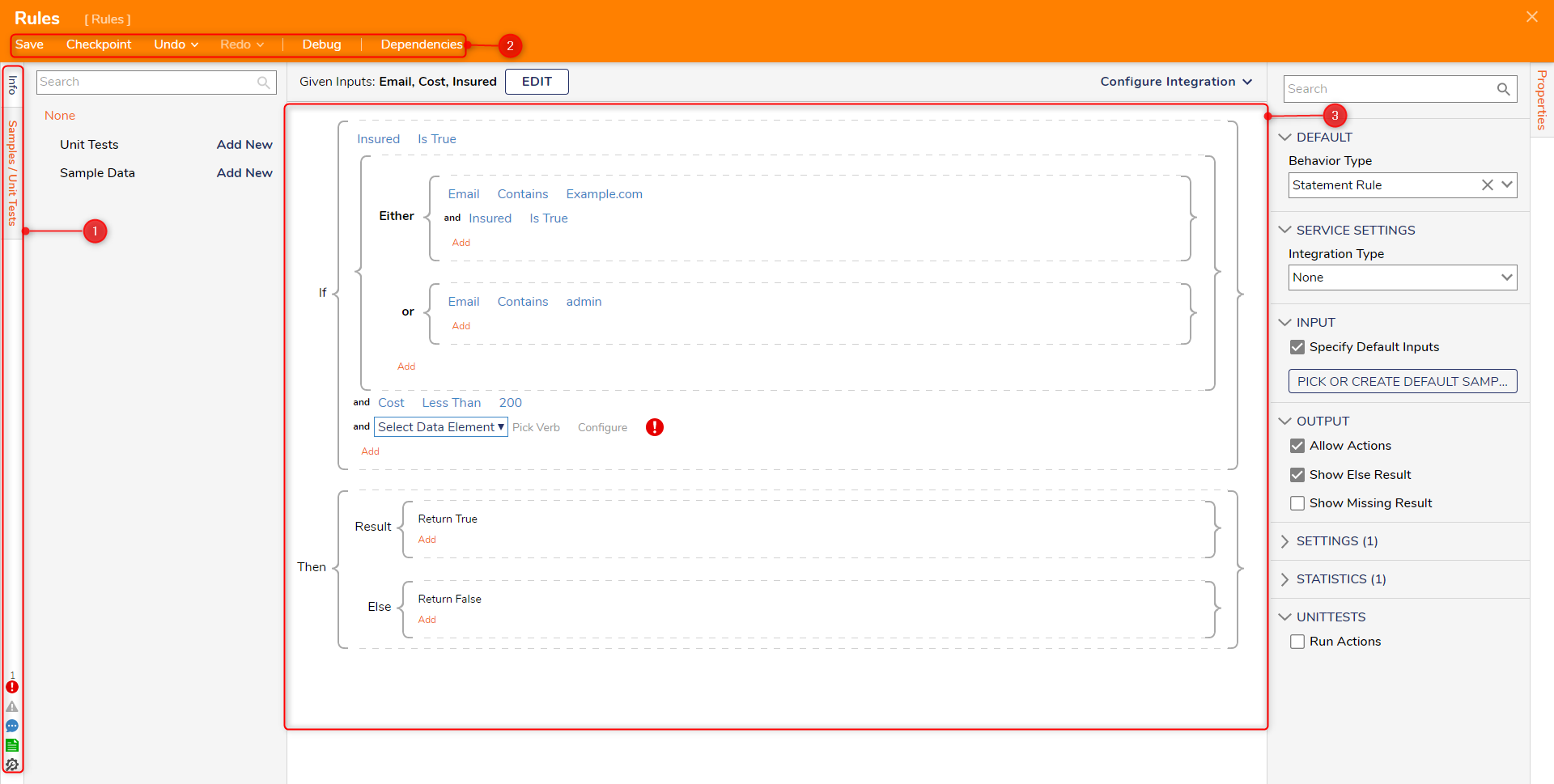 Side Panel

| Panel Name | Description |
| --- | --- |
| Info | Provides a place to view and update general information about a Rule, such as a Name, Description, Owner, and Tags |
| Samples/Unit Test | Sample Data and Unit Tests that can be defined for testing |

Top Action Bar

| Action | Function |
| --- | --- |
| Save | It saves the Flow without closing the Designer. This action includes a window to write notes for the current save if needed. |
| Checkpoint | Creates a backup of the Rule at the place where the checkpoint is saved, then stores it in the history folder. |
| Undo | Reverses the last design change |
| Redo | Reapplies the last design change |
| Debug | Opens the Debugger |
| Dependencies | Provides a breakdown of the elements that depend on and are used by the Rule |

Workspace

The workspace is the area where the Rule can be defined. The design for the workspace will vary depending on the Rule Type.
---
Within the Designer, data elements can be selected, along with appropriate verbs to define the logic for the Rule.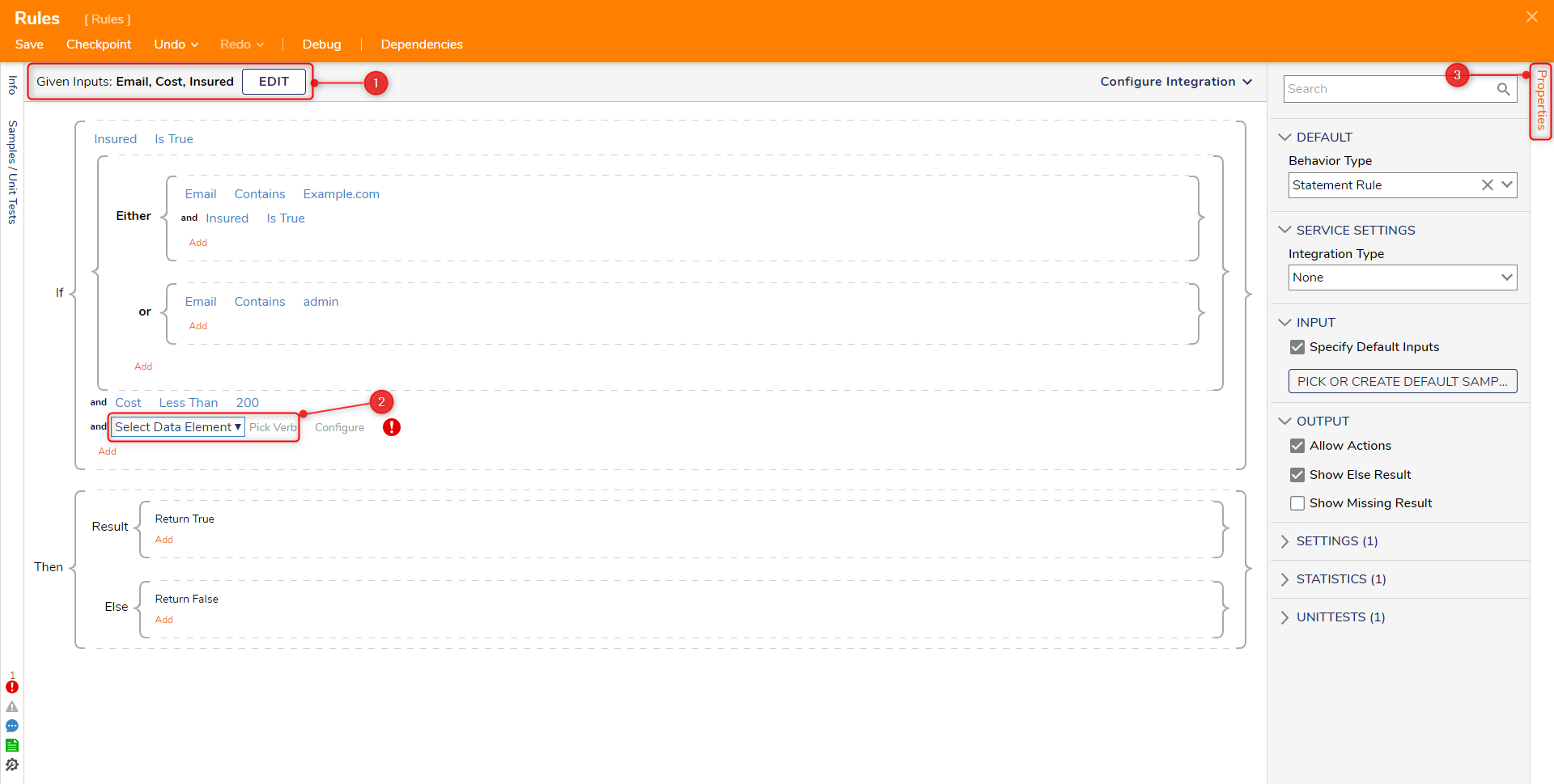 Setup Input Data/Edit

This is used to configure the input data used by the Rule. Input data can be created and modified using this action

Select Data Element/Pick Verb

| Action | Description |
| --- | --- |
| Select Data Element | Provides a menu where Data Elements can be selected and used within a Rule. |
| Pick Verb | Provides a menu to define the logic used for this statement. The menu will display different options depending on the data type of the chosen Data Element. |

Properties

The Properties Panel contains the configurations for a Rule, such as the Behavior Type and Integration type for a Rule.
---
Rules can be enabled and used as a REST service. This can be enabled by selecting API Service under Configure Integration or from Service Settings > Integration Type in the Properties panel.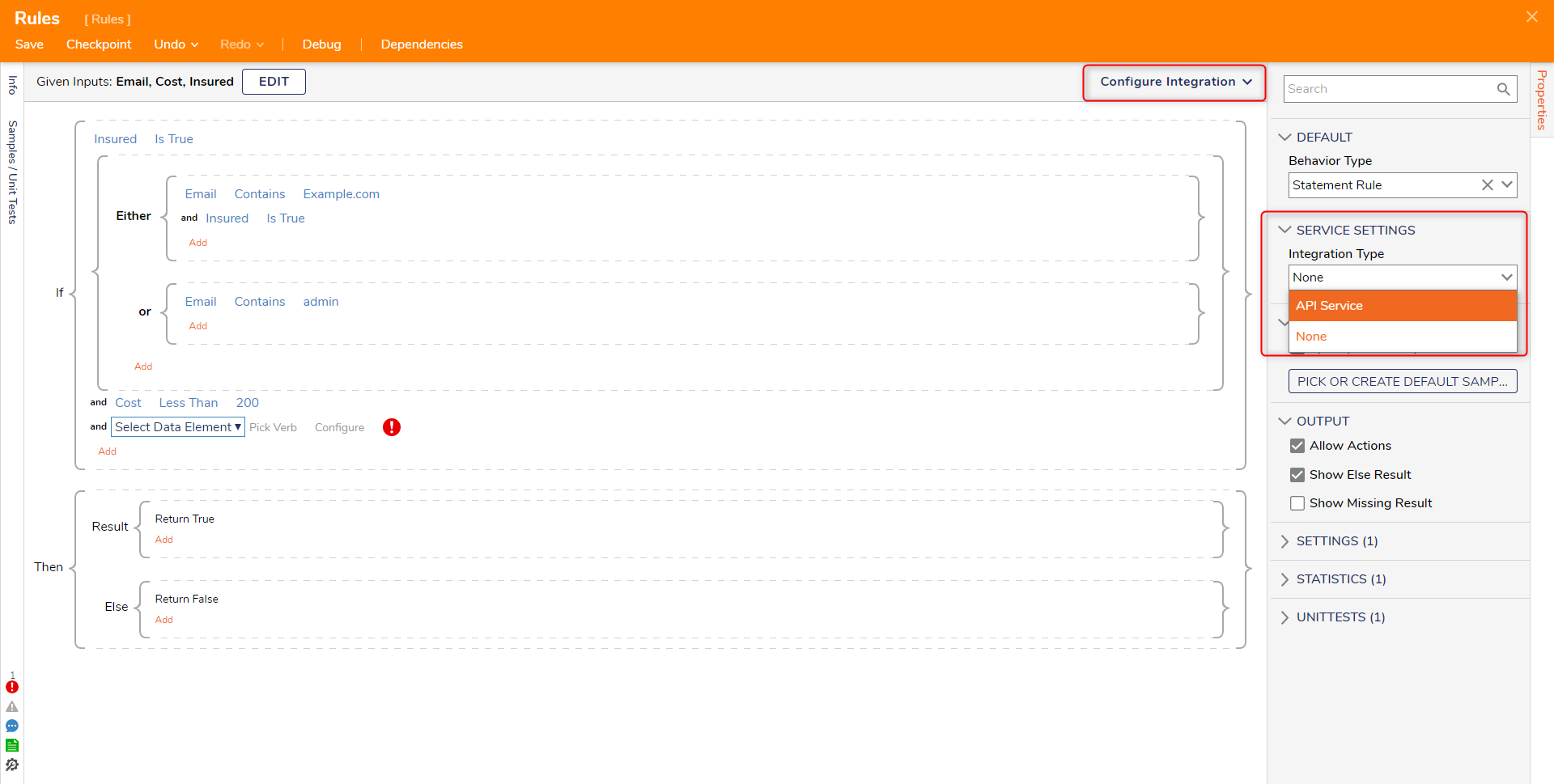 ---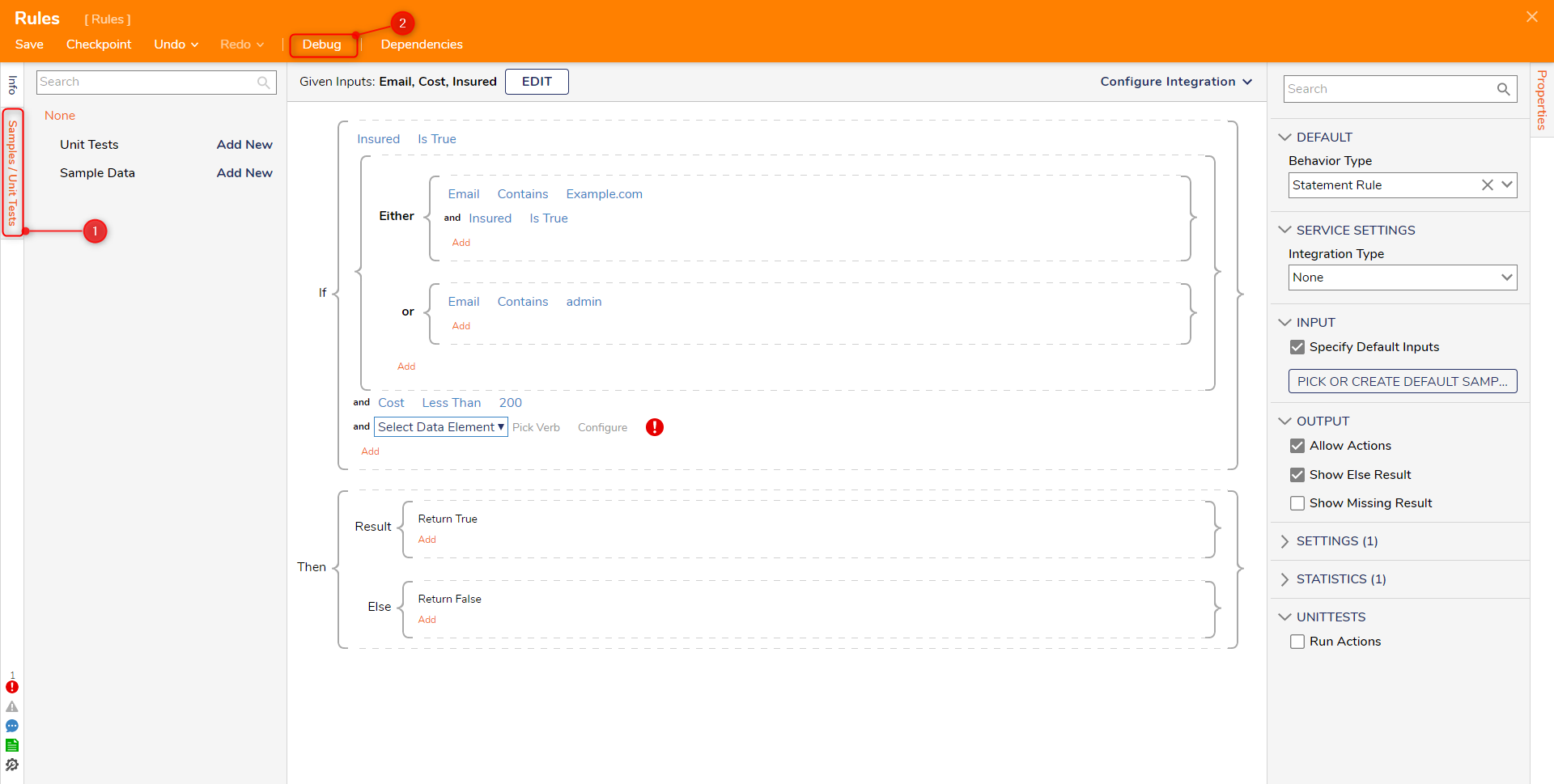 Sample Data is a set of data that can be configured and referenced by the Rule. Unit Tests are saved configurations of test values that are used as inputs to the Rule
The Debug action opens the Debug window. The Debugger is an interface where the Rule logic can be tested.
---
---
What's Next