Store Files on Amazon S3
Updated on 14 Jan 2019

1 minute to read
---
Amazon Web Services' S3 offers cloud-based storage that can be integrated with your system. Files that are stored on Amazon S3 can be monitored and listed with one Put File in S3 Step. To list the files in your Amazon S3 account, first set up your Amazon Web services Settings in the portal by installing AWS.
Install AWS
Install AWS: Navigate to System>Administration>Features. On the right side of the Designer Studio locates Amazon Web services (AWS) and select Install. Scroll down under Available Features locate and select AWS and chooseInstall .

Edit Settings
After Amazon Webservices is installed,  Navigate from the Designer Folders to System>Settings> Decisions AWS.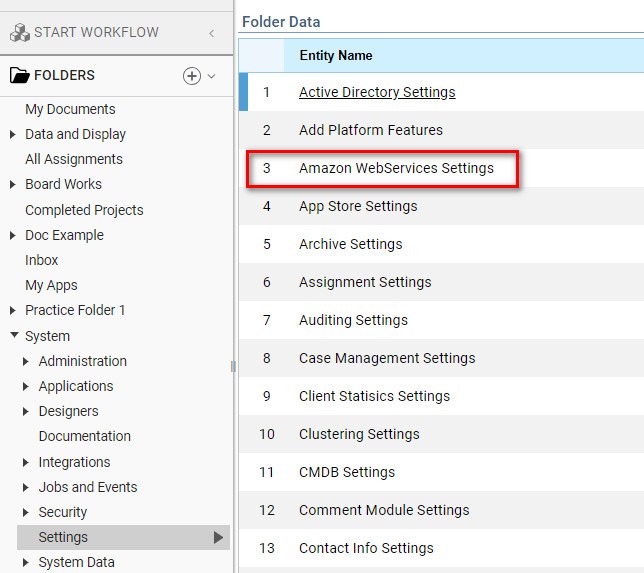 Right-click and select Edit to add Access Key and Key ID. 


Choose your Default Region and enter theAccess Key ID and Secret Access Key and select Save.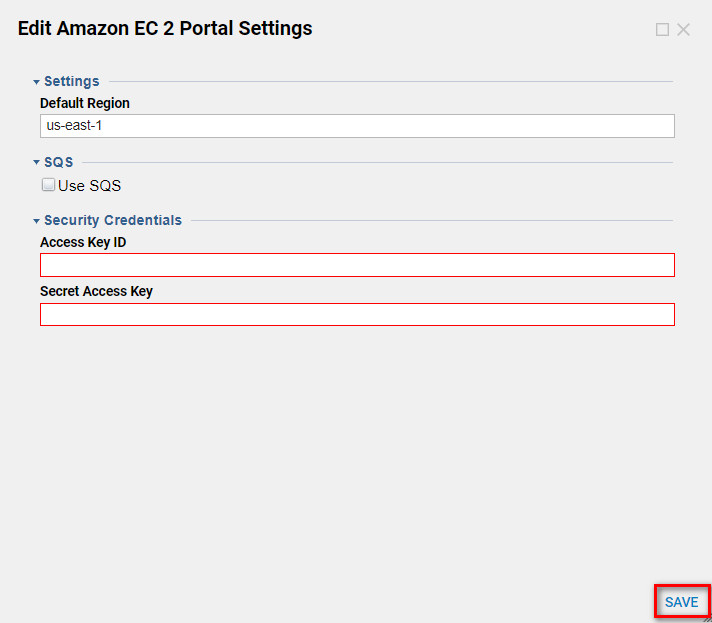 Example
Start by creating a new Flow, selectCreate Flow in the blueaction panel across the bottom of theDesigner Studio.


In the Steps Tab locate  Integration, Amazon AWS> S3, choose Put file In S3 , drag and drop step into Flow Designer.

Settings In the Properties Tab under Common Properties and under Inputs>Bucket Name set toConstant and add your Amazon S3 File, Bucket Name. Under Inputs> File set toConstant and upload or drag and drop File.  Under Inputs > local File To Store choose Constant and name the File. UnderInputs> Region set toConstant and define its Value. This Region must match the Region that was set previously in theDefault Region when Editing Amazon Webservices . Set the Region the appropriate Region code, in this examplewe used us-east-1. Last, under Outputs and Output choose Rename and set the value to PutFileInS3_Output.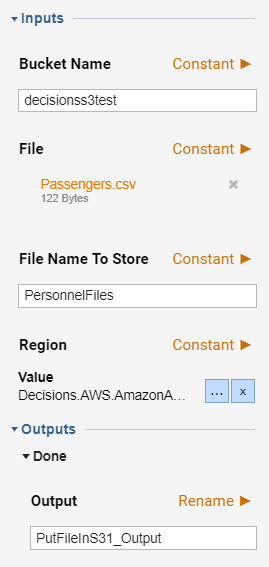 Run Flow
Now that the flow is complete, we need to run the flow. Selecting Debug in the Flow Designer , or close the Flow Designer and  right click on the Flow and select Run Flow.
Link
Setting up your Amazon web services
Was this article helpful?
---