Introduction to the Decisions Studio
Updated on 02 May 2019

3 minutes to read
---
What is Decisions?
Decisions is a browser-based design Studio and Portal . As a design studio, it offers a graphical interface that lets you create custom applications using forms , logic rules , data reports and more. As a user portal, it lets users work tasks and see pages or dashboards within an organization (as set by admin). For example, you can use Decisions Studio to create a task management application and use the Portal to show users tasks that are assigned to them.
Both the Studio and the Portal use the same in-browser interface. The rest of this article will briefly step through its different areas.
Quick Tour of the Decisions Portal
We start in the Decisions Studio - the full administrator view. In the top left hand corner there is a drop down menu that lets us toggle between the Studio and Portal views.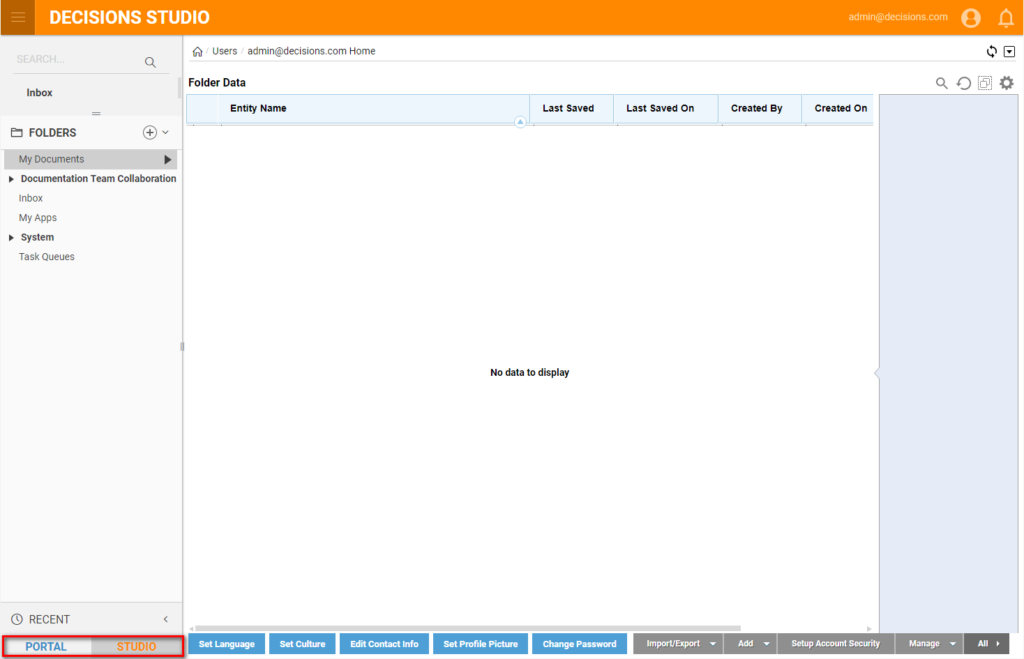 At this point, don't worry if your portal looks somewhat different from the above screen shot. For example, you may have different root folders under the folder tree (by default the root folders are: My Tasks, My Apps, System, Task Queues).
These folders are called Designer Folders and they will contain the entities for your applications: flows, forms, rules, etc. You can create a new Designer Folder by right-clicking on My Apps and clicking Add Designer Folder.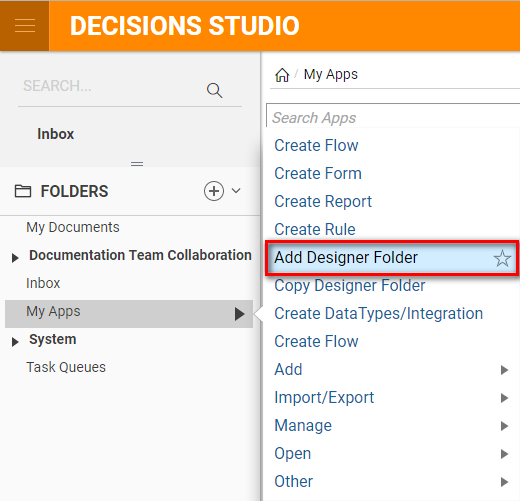 In this example we create a Designer Folder called "Example Designer Folder."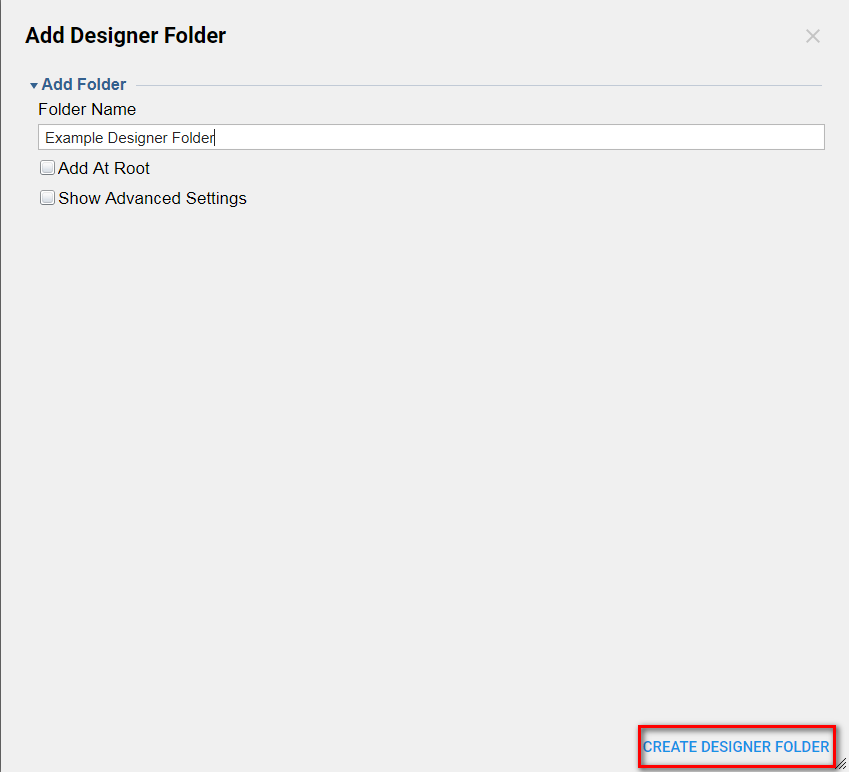 When you click on a Designer Folder like the one we just created, all of its entities appear in the right panel. An empty folder by default gives you options to create different kinds of entities:


Once you have created entities in this folder, they appear as follows (notice the entities are grouped by type - configuration , flow ,data type , form , page , rule ):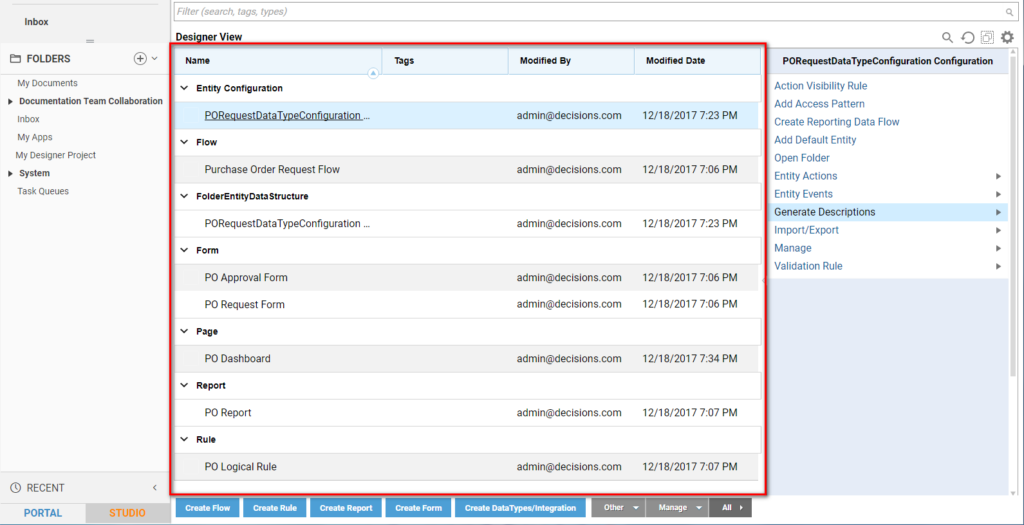 Moving back to navigation, notice the different tabs on the left side: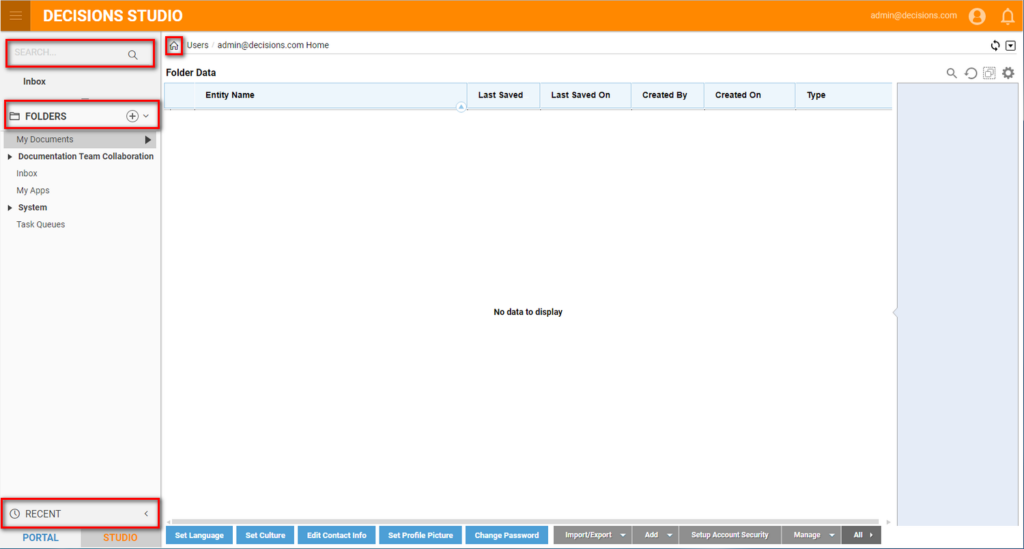 Description of each:
|

| Shows tasks or other notifications that are relevant for the current user (you can customize what is shown under this tab) | |
| --- | --- |
| | |
| Shows Designer Folders , which are used to organize the projects you create | |
| | |
| Lets you perform an advanced search by entity name and tag | |
| | |
| Shows recently opened or modified Designer Folders | |
Back in the Folders tab, the System root folder contains settings and default entities. For more information, see About the System Root Folder .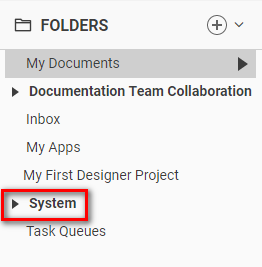 In the center of the top bar of the portal is the OmniSearch. It lets you perform an incremental search for entities by name (not tag). OmniSearch lets you find folders or entities and perform tasks on them right in the search results:

The right side of the top bar displays the following controls:


| Current User | The currently logged-in user (in this case admin) |
| --- | --- |
| Portal Actions | Lets you take action on the current portal configuration, for example setting a home page (different options appear in this menu based on what folder or entity is selected) |
| Portal Refresh | Refreshes all data in the portal (for example, when you are waiting on an external system or event) |
| Notifications | Displays notifications for the current user such as new tasks |
Multiple Paths
There are multiple ways to do almost everything in the portal. For example, to create a new entity in a designer folder, for example a flow , you can right-click on the designer folder then click Create Flow.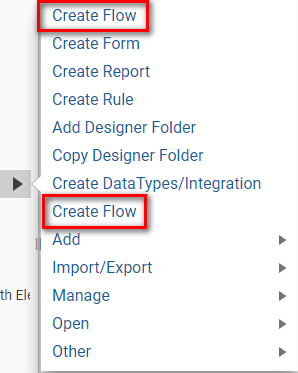 Alternately, at the bottom of the right panel you can click Create Flow.


---
Was this article helpful?
---