About Flow Settings
Updated on 20 Aug 2019

1 minute to read
---
This document overviews Flow Settings in Flow Designer.
Note: to learn how to build your first Flow, please click here .
In the Flow Designer we locate and expand Settings on the Properties panel.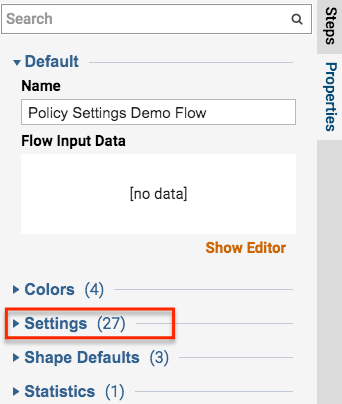 We should be able to see following Options :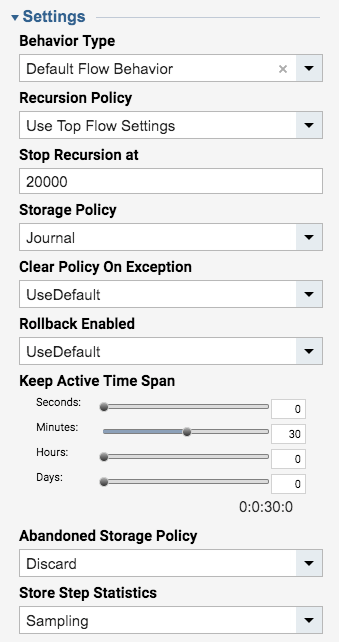 In Behavior Type drop-down list we can set desirable Flow Behavior . A Flow Behavior acts like an interface definition for a Flow . It can enforce expected inputs and outputs as well as create the expected inputs when the behavior is assigned.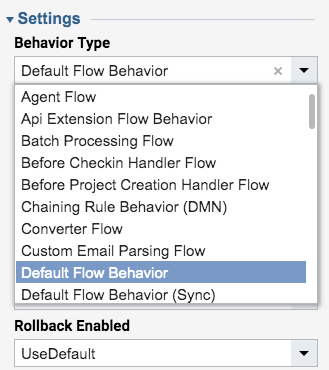 Recursion Policy:
Use Top Flow Settings (using parent Flow's recursion policy)
Use This Flows Settings
Off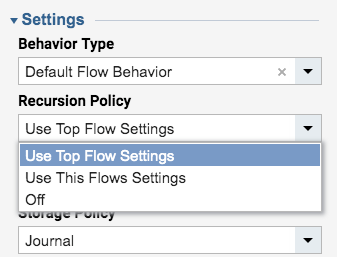 Stop Recursion at (default 20000) . This setting prevents Flow from an infinite loop and overflow memory. Note: this number should be increased if we intend to process more than 20000 records.

Storage Policy sets the way Flow Data is going to be stored in database if the Flow is abandoned.
Journal is heavier on processing but lighter on storage space in database;
Snapshot is lighter on processing but heavier on storage space in database.

Clear Policy On Exception . When a Flow ends on an exception, by default it does not clear the Flow data that may have been saved in the database. We can override this with the Clear Policy On Exception setting.
Use Default: set in System>Administration>Settings> Designer Studio Settings>Flow Designer.
Yes
No

Rollback Enabled sets if we can rollback Flow data based on 'Clear Policy On Exception' setting.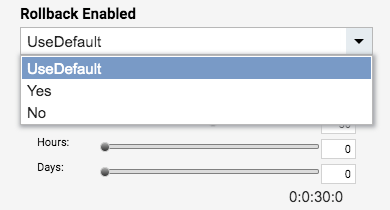 The Keep Active Time Span setting determines how long a Flow remains in the 'running state' if it is stalled on a sync step. Once it is no longer active the Flow becomes abandoned.
Abandoned Storage Policy defines if Flow data should be Saved or Discarded if Flow is 'abandoned' .

Store Step Statistics setting defines if Step data should be stored in database.
Sampling: store only more than 10;
Always: store;
Never: do not store;

Was this article helpful?
---