Creating Your First Report
Updated on 20 Sep 2019

1 minute to read
---
Overview
Reports are designer elements that collect, filter, organize, and display data. Data can be displayed in tables, matrixes, summaries, or charts. Reportable data can be sourced from the system, flows, folders or integrated systems. It can also be filtered according to the source's contents. Custom charts, matrixes, summaries, grouping, and organization schemes can be configured in the Report Designer . Additional display and styling options can be configured within the Report Designer , the Page Designer, or at run time.
Example
The goal of this example is to display data for all of the Accounts inside the system.
In the portal, create a Designer Folder where the new report will reside.
To learn how to create a Designer Folder navigate here.
In the new Designer Folder click on the Create Report button in the bottom action panel.
In the Create Report dialog, name the report "Accounts Report", and select CREATE to open the Report Designer.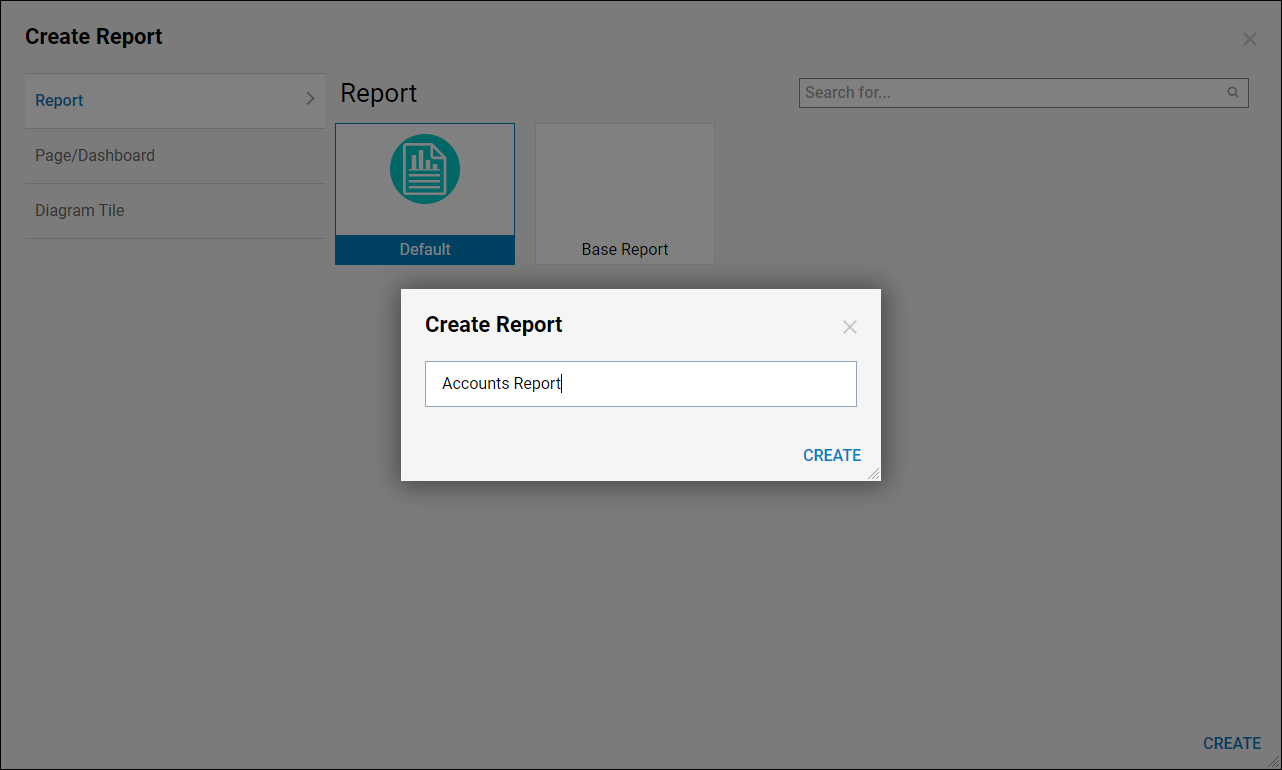 Under the Data Sources category, click Add. Expand the Data Sources > Common and select Account Data Source. This directs the report to source the data it will use.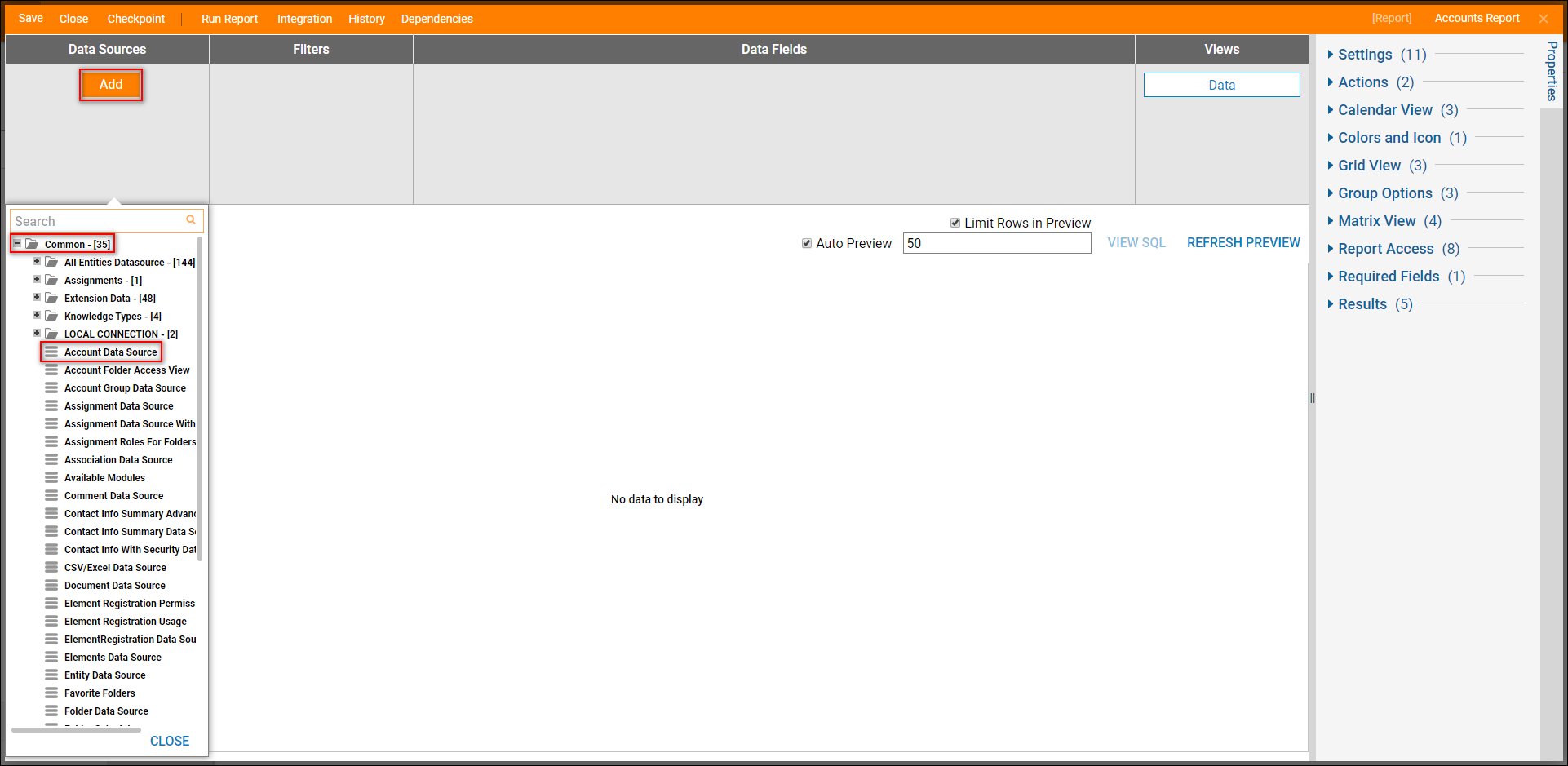 To add columns to the report go to the Data Fields column, select the Add button. In the Columns category select Email Address and Created on Date.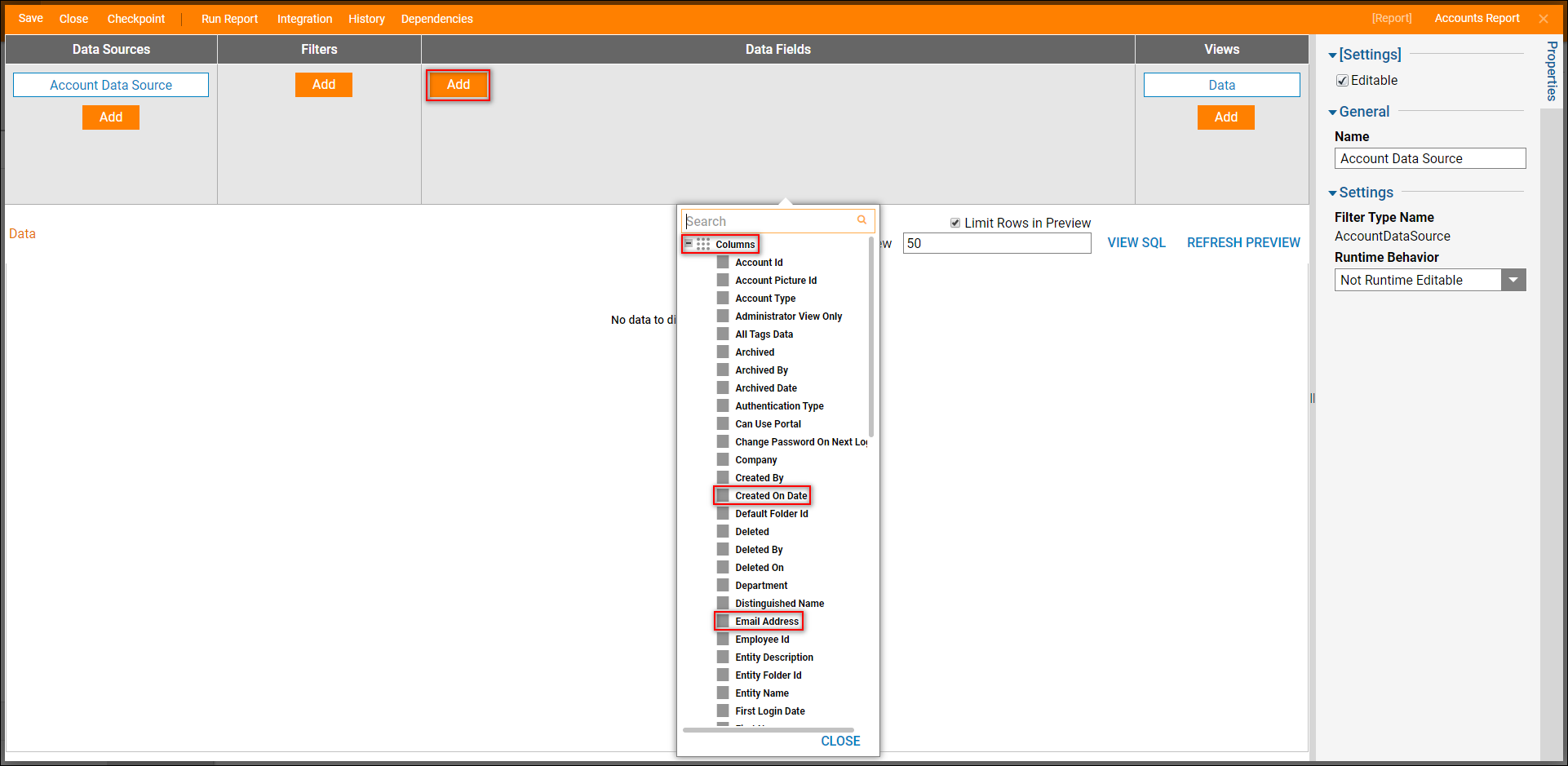 Grouping
To group these results by the Created on Date, hover the mouse over the Created on Date column header. A small icon of three squares will appear (Grouping icon). Click on the Grouping icon Grouping a report by a column allows a user to create a chart for the report.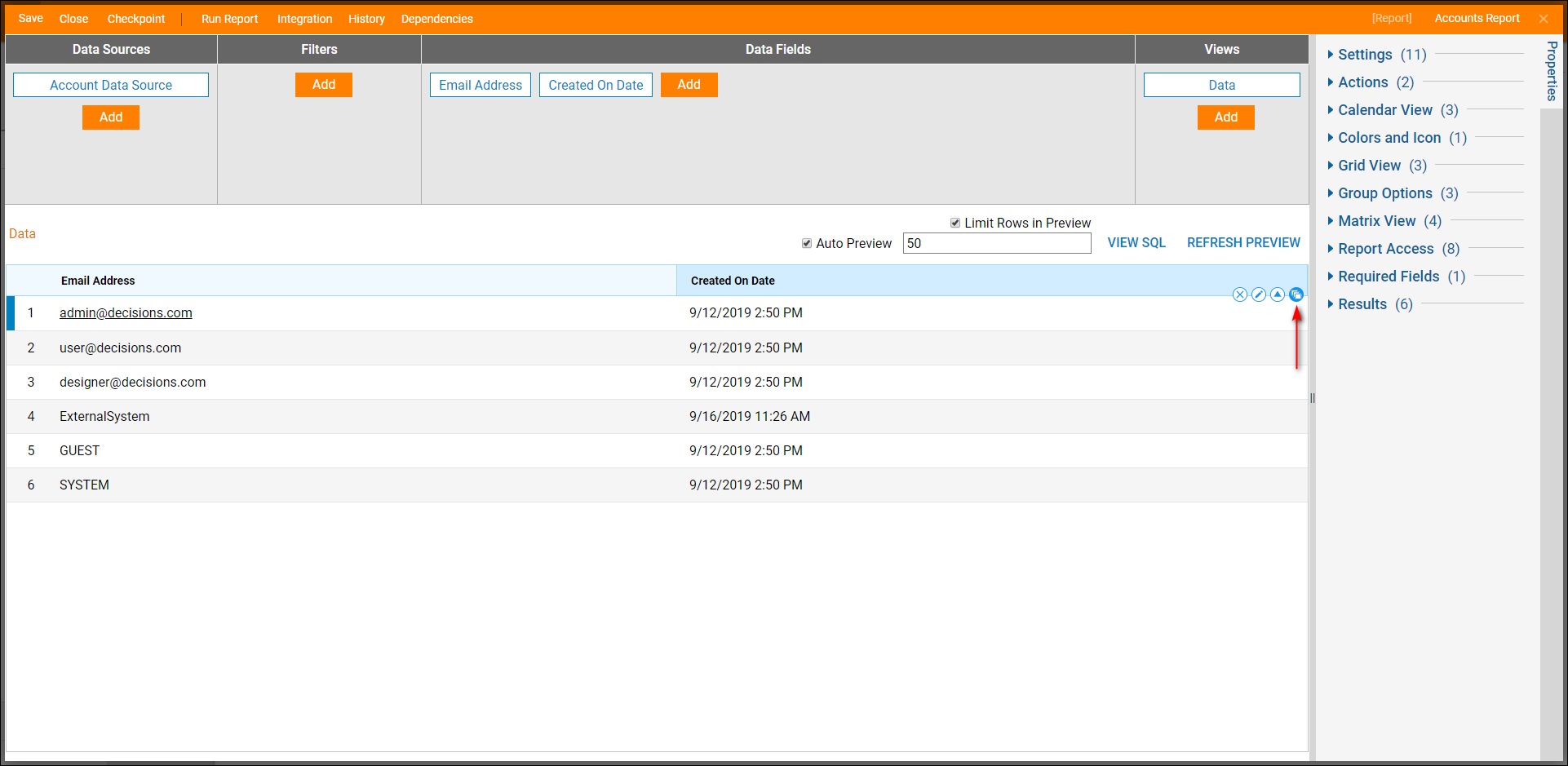 This completes the report. Save the Report then close the Report Designer. Back in the Designer Folder, run the report to see it in action.
Select the Accounts Report and in the resulting action menu, select Run Report.
The report will open in a new window. The report has a menu bar with several viewing options. The default option is the data view. In this view, a table of all the accounts in the system are displayed. The results are grouped by Created on Date and each Accounts Email Address is displayed in the appropriate column.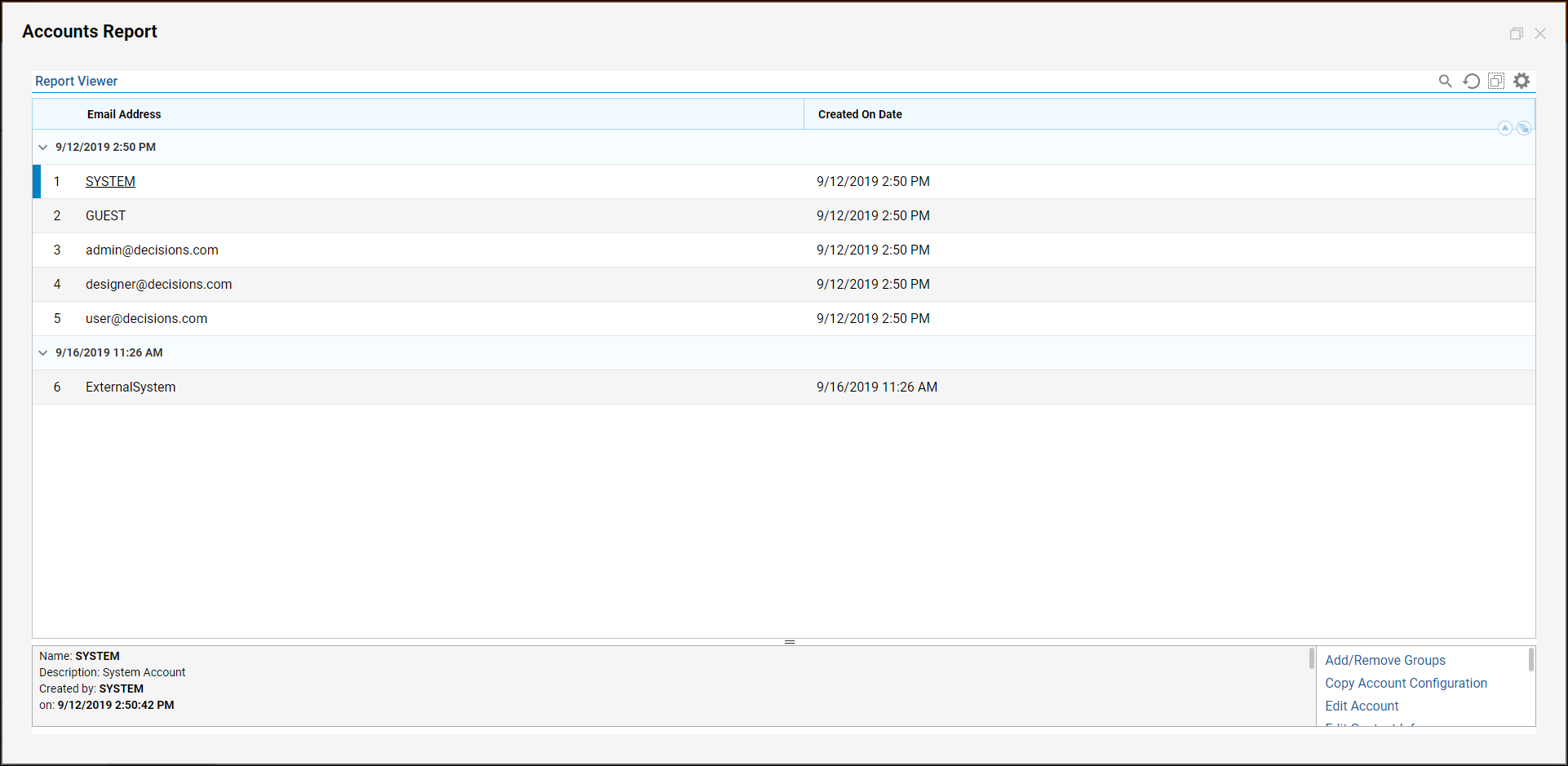 Was this article helpful?
---