Advanced Approval Chain
Updated on 09 May 2013

1 minute to read
---
This topic covers the advanced options available for configuring an approval chain. Advanced settings are for 4.0 and older versions.
Approval chains are configured under System > Designers > Approval Chains .
To configure advanced options, select an approval chain (or, create a new one). Click on the Edit link for the approval level needing advanced options configured. All of the settings established are only applicable to that particular level in the approval chain.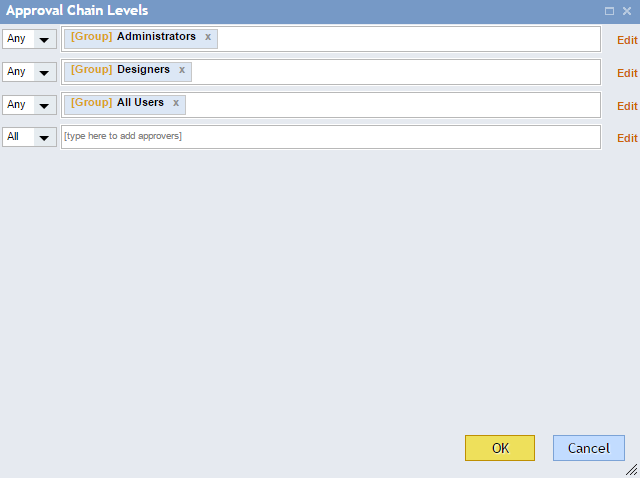 Set the Approvers properties as desired.
How Many Approvers - Any or All , changes the selection made in theApproval Chain Levels screen for the respective approval chain level. (See the Introduction to Approval Chain topic for the Any and All operator explanation.)

Specify Time to Approve - When enabled, the deadline for approving is set to one day by default. The Action to Take on Timeout options determine the status of the request upon reaching the time allotted to approve.

Approved - Designates the request as approved.

Rejected - Designates the request as rejected.

Escalated - Will cause the approval chain to look to the next level of approvers upon time out.
Use the sliders for the time frames to establish the time allotted for the approval step.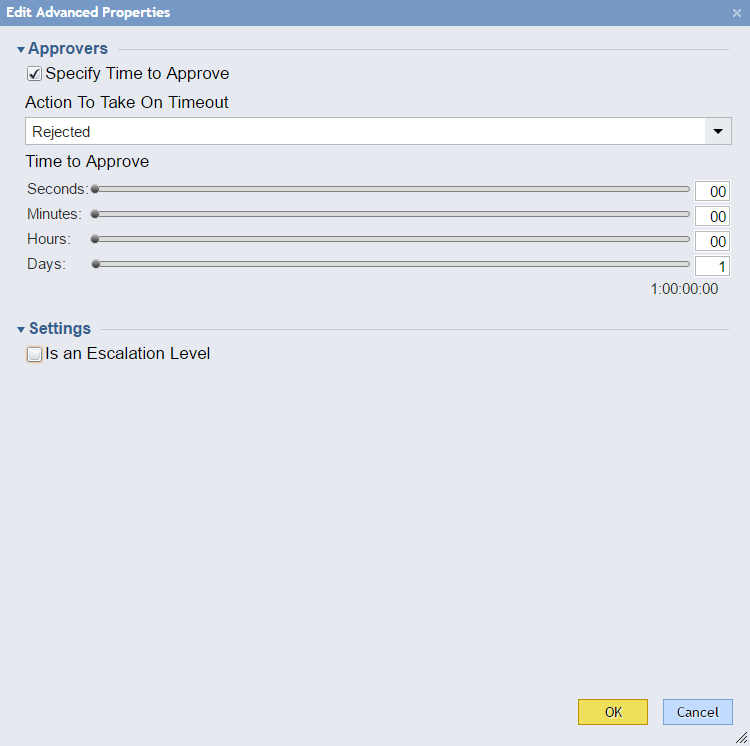 Set the Settings properties as desired.
Is an Escalation Level - Designate this level as an escalation level if the following conditions are true: (1) If the level is only reached after a previous level times out (i.e. not a part of the normal chain of processing), and (2) that previous level is also marked Escalated as the Action to Take on Timeout option.
Click OK to save the changes. Configure additional approval levels in the approval chain as needed.
To see the approval levels in a flow, see the video for this topic above.
Was this article helpful?
---